NEW REBELS CAUSING A RUCKUS
July 6, 2015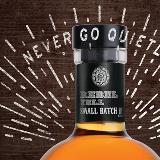 The rowdy, rebellious spirit you know has been refashioned for a new era! The Rebel Yell® storied legacy dates back to 1849. More than 150 years later, Rebel Yell is bridging the gap between its proud heritage and modern tastes with two brand-new innovations.
Rebel Yell Small Batch Rye offers smooth, spicy flavor with enough backbone to stand up to classic cocktails. This new straight rye starts out rebelliously spicy and ends with a surprisingly smooth and sweet finish.
Rebel Yell American Whiskey combines 50% of Rebel Yell's original, time-honored Kentucky Straight Bourbon Whiskey for smoothness with 50% straight rye for spicy flavor. The result is 100% American whiskey!
Bottled at 90 proof, new Rebel Yell Small Batch Rye and American Whiskey will be available nationally in limited quantities. Starting March 23, only 6,000 cases will be available for each variant in the 750mL bottle for 2015.
Whiskey is currently experiencing an explosive period of growth. Domestic whiskey is up 4.5%, the rye segment is up 47.7% and small batch is up 39.8% over the past 12 months*. Rebel Yell is growing faster than the domestic whiskey category, up 10.3% over the past 12 months*. Now is the perfect time to capitalize on these trends with the new Rebel Yell variants!
Good luck selling and Never Go Quietly!
*Source: DISCUS Members Only Data R12 Jan 2015 vs. PY