PAUL A. LUX AWARD
December 27, 2017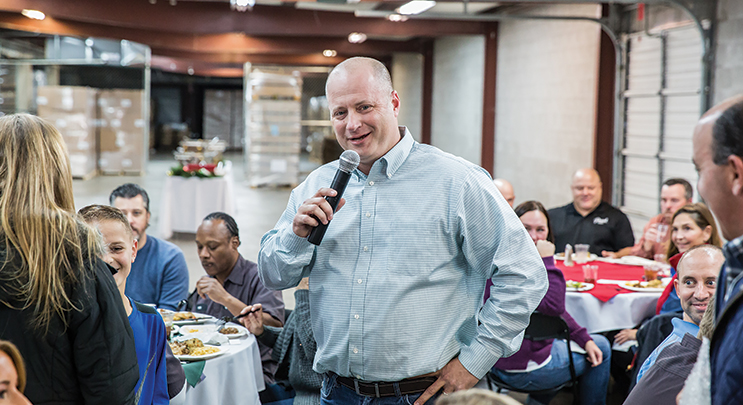 Congratulations to Chris Wieczorek, who was recently awarded the prestigious Paul A. Lux Award!
"I was so surprised to receive this award," says Chris. "I know how meaningful it is to the Lux family and Luxco®, and the past recipients have all been incredible assets to the company. I am honored to be included in this group."
The Paul A. Lux Award was created in 2008 to recognize valuable individuals for outstanding achievement, dedication, integrity, and commitment to Luxco. The award was named after Paul A. Lux, the founder of Luxco/DSC, as a tribute to honor his vision and legacy.
"This award continues to carry deep meaning to me, as it is another way to honor my father," says Donn. "Chris has been a vital part of the Luxco family – having started as a Quality Control Tech. He worked extremely hard over the last 15 years to earn his current position as Manufacturing Director. I am always full of pride when this happens, as I get to witness personal and career growth. Chris has been instrumental to the success of operations, and this award is well-deserved."
Chris received his bachelor's degree in Chemistry from the University of Missouri-St. Louis (UMSL). Before joining Luxco as a QC Tech in October of 2002, Chris worked in Research & Development at Monsanto. In 2004, he was promoted to Quality Control Supervisor at Luxco, and he quickly became Bottling Supervisor in 2005. Just two years later, he was promoted to Plant Manager.
"Chris is goal-oriented and knows what it takes to get the job done," says David Bratcher, Luxco President. "Having worked with him for many years, I have seen first-hand his contributions to streamlining our operations and enhancing efficiencies."
In 2013, he added Luxco's Cleveland operations to his responsibilities, and in 2015, he received the title of Manufacturing Director, where he is now responsible for Luxco's three plants – St. Louis, Cleveland, and Cincinnati. In addition, he has recently been involved in setting up the operational procedures for Lux Row Distillers™.
"Over the last 15 years, there has been so much change in operations – we are much more automated and efficient now than we were back then, and I am proud to have been part of the change," he says. "My favorite aspect of the job is that no day is like another. There are always new challenges to figure out, and the variety keeps me motivated. I also value the long-time friendships I have madeat work."
When receiving the award, Chris mentioned that the Luxco family has impacted his own family as well. His kids have fond memories of all the fun activities made possible by Luxco and the Lux family. "This truly is a family environment and a company that values loyalty and long-term commitment."
Chris lives in St. Louis with his wife Kate and his children Abbey and Jake. He stays busy with his kids' activities and is the coach of his son's baseball team. When not at work, Chris enjoys hunting, fishing, and boating.
Cheers to Chris Wieczorek – the 2017 recipient of the Paul A. Lux Award!