Paul A. Lux Award Recipients
December 22, 2015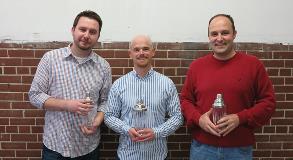 In 2008, the Paul A. Lux Award was created to recognize individuals for outstanding achievement, dedication, integrity, commitment to the company and doing the right thing. The award carries with it a deep and profound respect and admiration that honors its namesake, Paul A. Lux, founder of Luxco/DSC.
This year we have three recipients, Craig Chadbourne, Jason Finke and Amel Pasagic. These gentlemen led the charge to upgrade Luxco's enterprise software system. The new system went "live" at Luxco on January 1, 2015 in St. Louis and Cleveland. Amel, Jason and Craig didn't stop there: they brought Limestone Branch Distillery into the new system last spring, and they added Meier's Wine Cellars on August 1, 2015.
"We had to work a lot of hours – there were big deadlines to meet to get the system up and running," Jason notes. "Some of the challenge was getting the system to fit our business. It was designed to work with any manufacturing business, but getting it to fit Luxco well was an issue."
"It was kind of a never-ending story," Craig adds. "But in the end, a success story."
The dedication and personal commitment displayed by these three individuals was obvious. For nearly fifteen months Jason, Amel and Craig worked through customizing the software and setting up a database with countless records. In addition, they developed hundreds of reports, and overcame many obstacles and issues.
Their near-daily meetings and discussions were often quite animated, to put it politely, and showed their passion and personal ownership in the project.
"Craig, Amel and I worked like brothers," Jason says with a laugh. "We may have had arguments and disputes, but at the end of the day, we wanted to do what was best for the company."
Amel adds, "We're a colorful bunch, very diverse … but that speaks to how Luxco works. You put a group of us together and no matter how different we are, we pull together and figure out a way to get the job done. It was a great learning experience."
Congratulation to Amel, Craig & Jason – the 2015 recipients of the Paul A. Lux Award!