Paul A. Lux Award
December 31, 2016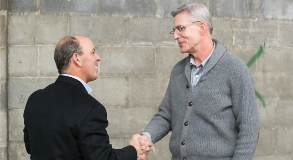 The Paul A. Lux Award was created in 2008 to recognize valuable individuals for outstanding achievement, dedication, integrity, and commitment to Luxco. The award was named after Paul A. Lux, the founder of Luxco/DSC, as a tribute, honoring his vision and legacy.
"It means a lot to me to continue honoring my father with this award," says Donn Lux. "This year's recipient shows the highest level of dedication and commitment to the company and to doing the right thing. Rob has been an incredible asset to the Luxco team."
In 1981, after graduating from college, Rob started working at Paramount Distillers in Cleveland, where his first task was to establish a data processing and accounts payable system. Later that year, he transferred to Paramount's subsidiary, Meier's Wine Cellars in Cincinnati, where he worked in all areas of operations. He then assumed the Regional Sales Manager position. After six years at Meier's, he returned to Paramount to work on special projects.
He then decided to return to the wine side of the business and became Vice President and General Manager of Lonz Winery on Middle Bass Island in Lake Erie, but he still spent his winters back at Paramount since the winery was only open from April to October.
As Vice President of Paramount, Rob became part of the ownership group purchasing the company from the Manchick family in 2009. He was then named President of Paramount Distillers.
In 2011, Luxco purchased Paramount and Meier's. Since then, Rob has remained on board – leading the charge with his vast experience at both companies – and becoming the Purchasing Manager for the Cleveland Division of Luxco.
"It was an easy transition from Paramount to Luxco as both companies are family-owned and share many of the same values," says Rob. "Working with the Luxco team has been great – an amazing group of smart and progressive people. I was impressed right away."
Rob lives in the Cleveland area with his wife Cynthia. They are proud parents of two adult children, William and Emily. William has graduated from Miami University of Ohio and now lives in Pittsburgh. Emily is currently working on her master's degree in education at Ohio State, and she is getting married next year.
"As my own family grows, I am happy to be a part of the Luxco family, and I enjoy coming to work every day."
Congratulation to Rob Boas – the 2016 recipient of the Paul A. Lux Award!