Pearl Holiday Flavors
October 9, 2015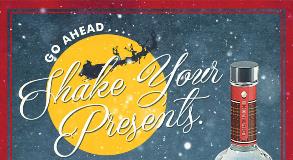 Pearl is launching two new holiday flavors for 2015: Pumpkin Spice and Chocolate Hazelnut. These are a limited-time offer, just for the holiday season, and only available in 750 mL bottles.
Rich chocolate with hints of delicate nut flavor paired together for a smooth finish. The sweet and nutty combination complements each other for the perfect ingredient to a one-of-a-kind seasonal cocktail.
Chocolate Hazelnut Martini
2 oz. Pearl Chocolate Hazelnut Vodka
4 oz. Chocolate liqueur
Splash of Half & Half
Indulge in your cold-weather cravings with the mildly sweet and smooth taste of fall pumpkin. Pumpkin blends naturally with cinnamon, nutmeg and ginger, creating the perfect spice combination. The natural kick of holiday spice and infused creamy pumpkin are perfect for any fall or holiday cocktail.
Pumpkin Russian
2 oz. Pearl Pumpkin Spice Vodka
1 oz. Coffee-flavored liqueur
1 oz. Cream