PEARL® LAUNCHES "SIP LOCAL" CAMPAIGN
July 12, 2016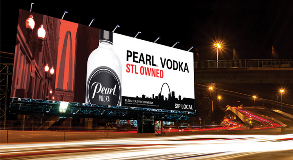 Pearl® is making big moves in 2016 to reposition itself as the hometown hero of vodkas. As of early June, the entire metro St. Louis area has become blanketed with all new advertising and marketing materials, from billboards, to bus shelters, to on premise print materials, to custom t-shirts … the list goes on and on. This new marketing approach aims to inform the local consumer that Pearl® Vodka is a St. Louis-owned company, consequently gaining traction with the local vodka drinker and making Pearl® the hometown hero of the vodka category.

Pearl®'s new marketing campaign targets key neighborhoods in the metro St. Louis area, starting with Downtown, Soulard, Tower Grove, Central West End, and Clayton. All new advertising materials were created with a reoccurring theme that drives home the locally-owned message while simultaneously tying Pearl® to those key local communities. In addition to the large-scale print media being used to reinforce the locally-owned message, Pearl® had 5,000 custom t-shirts made to be distributed at targeted off-premise accounts, and coasters and posters to be used by local venues that carry and promote the brand.

One of the most exciting new developments is the expansion of Pearl®'s ongoing partnership with LouFest. This year's LouFest will include a VIP area for Pearl® including a branded bar, which will allow the brand to increase consumer interaction, and even surprise some guests by handing out VIP tickets for a better stage viewing experience courtesy of Pearl® Vodka.

On top of all the on and off premise efforts for the new "Sip Local" campaign, Pearl® has secured promotional radio spots during key weeks of summer. These radio ads will appear on some of the most popular radio stations in St. Louis spanning many musical genres, and will promote the giveaway of four different prize packages that are all sure to excite listeners all across town.

With such a wide range of new marketing endeavors in place for Pearl® Vodka, this year's "Sip Local" campaign is certain to let vodka drinkers know that Pearl® is not only a premium product, but also hails from the city they call home.