PEARL VODKA'S A RARE ESCAPE SWEEPSTAKES IN FULL SWING!
May 27, 2014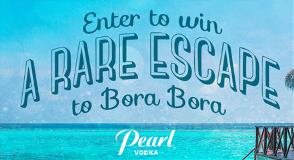 Pearl Vodka's A Rare Escape Promotion is now up and running! Fans of Pearl Vodka on Facebook can enter the sweeps now through August 30th for a chance to win a one-of-a-kind trip for two at the beautiful Pearl Beach Resort and Spa in Bora Bora!
Luxco is supporting this unique experience through a heavy dose of impactful promotions, including a national media campaign, featuring a partnership with Evite, Facebook advertising, blogger outreach, trade print advertising, and a robust menu of point of sale materials.
Spread the word and let all key stakeholders know that Pearl is ready for the summer!