Premium Limited Edition Spirits Coming this Fall
October 15, 2021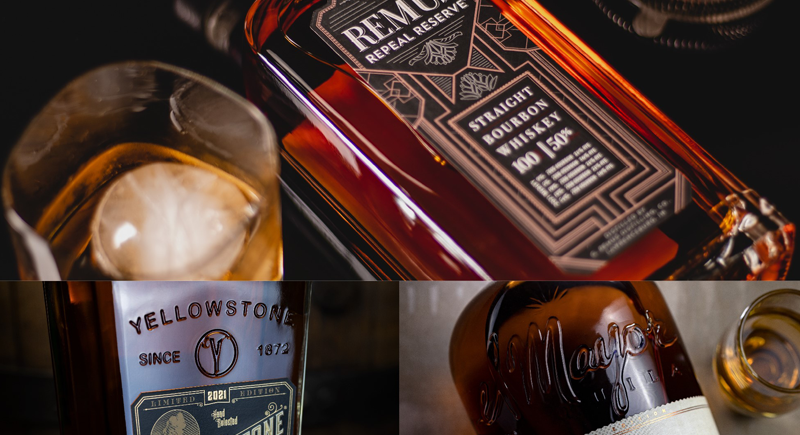 For the past several years, the master distillers and master blenders of Luxco® Branded Spirits have been wowing consumers and critics alike with a solid roster of annually offered, limited-edition spirits.
These spirits showcase unique blends and finishes, along with sophisticated and highly appealing taste profiles. Lux Row Master Distiller John Rempe presented his 2021 limited offering this past spring: Blood Oath® Pact No. 7. It was time for fellow master distillers Stephen Beam and Rodolfo González, along with master blender David Whitmer, to showcase their efforts.
REMUS REPEAL RESERVE® SERIES V
The fifth-annual edition of the Remus Repeal Reserve® series showcases a medley of five bourbons ranging from 2005 to 2008; it offers consumers a rare taste of the finest cask selections available from one of the oldest distilleries in the country.
David Whitmer, master blender at MGP's historic distillery in Lawrenceburg, Indiana, explains, "Series V exemplifies what our Remus Repeal collection stands for: showcasing the incredible array of medleys and aged reserves we work with in Lawrenceburg. We worked with various mash bills and aged reserves this year to create a unique and satisfying flavor profile. Series V leads with dried fruit, rich caramel, maple syrup, roasted nuts, and leather. The beginning includes rich toffee and vanilla, followed by chocolate, glazed nuts, and oak. The finish offers candied fruit, caramel, baking spice, and lingering, oaky rye spice."
The official launch date for Remus Repeal Reserve Series V is September, which is National Bourbon Heritage Month. Industry writers and influencers were able to sample the product in July, yielding extremely positive feedback, including a score of 98 posted by the team at The Tasting Panel.
Remus Repeal Reserve Series V is bottled at 100 proof (50% ABV) and hit retail shelves in limited quantities with a suggested price of $89.99 per bottle.
2021 YELLOWSTONE® LIMITED EDITION
Since 2015 Limestone Branch Master Distiller Stephen Beam has created a limited-edition selection of Yellowstone® Kentucky Straight Bourbon Whiskey. This year's Limited Edition offering features a combination of 7-year-old and 15-year-old aged bourbon. To add a layer of sophistication to the flavor
profile, Beam finished select barrels of the 7-year-old bourbon in hand-picked Amarone casks.
Beam describes the process and the resulting taste profile this way: "Amarone is a rich, red wine that – much like bourbon – takes time and patience to craft and requires at least two years in oak casks to age. Finishing select barrels in these Amarone casks brings out notes of fresh-cracked pepper and tobacco, as well as hints of black cherry, fig, and dark chocolate to the classic bourbon notes of caramel, vanilla, and hints of citrus. This bourbon is reminiscent of pre-Prohibition whiskeys with a finish of oxidized fruit, cherry, and black currant."
2021 Yellowstone Limited Edition Kentucky Straight Bourbon Whiskey was bottled at 101 proof (50.5% ABV). A limited release of 7,500 3-in cases hit retail shelves in July at a suggested retail price of $99.99 per bottle.
EL MAYOR® EXTRA AÑEJO SHERRY CASK AGED
For four generations, the González family has produced exceptional tequila. The family's latest limited-edition offering, El Mayor® Extra Añejo Sherry Cask Aged, continues their honored and extraordinary tequila-making tradition. The new ultra-premium variety is aged 38 months in sherry casks, resulting in a liquid with a golden amber color and an exceptionally smooth and balanced finish of oak, vanilla, and caramel.
"The Sherry cask enhances the full-body extra añejo, producing a liquid that is beautifully complex and elegant," said Graciela González, fourth-generation distiller, and daughter of Rodolfo González, Master Distiller at Destiladora González Lux. "From the dried-fruit-and-spice nose to the smooth finish of vanilla and cooked agave, this is an outstanding edition that is sure to please even the most discriminating tequila drinker."
As with every bottle of El Mayor, this limited edition is made with 100% estate-grown blue agave from the valley area of Jalisco, Mexico. Only hand-selected agaves were cut for this variant, using the Jica Jima process for a smooth taste.
El Mayor Extra Añejo Sherry Cask Aged was distilled and produced at Destiladora González Lux and will be available in September. This limited-edition tequila is packaged in an embossed bottle inside a decorative secondary box.
Approximately 5,000 bottles will be available on an allocated basis, with a suggested retail price of $129.99 per 750-mL bottle.