Q4 Programs Make Holidays Merry!
October 10, 2015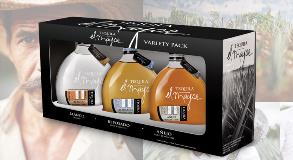 The holiday season is just around the corner, and Luxco has some wonderful "gifts" for our consumers – rebates!
Spirit sales tend to rise at this time of year, and we want our Luxco brands to be the present everyone wants to receive … and give.
To that end, this year we're offering rebate amounts up to $20 off Pearl Vodka, $8 off Paramount®, $6 off St. Brendan's, $6 off Exotico®, $6 off Ezra Brooks®, $6 off Caffe Lolita®, as well as additional rebates for Rebel Yell, Lord Calvert®, Calvert Extra®, Wolfschmidt® and Yago®.
In addition, special promotions such as "12 Days of Pearl" and gift and variety packs for El Mayor and Rebel Yell will be available.
Talk to your Luxco Sales Manager today so you don't miss out on these great promotions! Happy Holidays!