QUARTER-CENTURY CLUB ADDS TWO NEW MEMBERS
October 1, 2014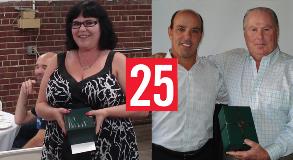 Luxco has a rich history of being both a great company to work with, and a great company to work for. This fact is no more evident than in the longevity of many of our great employees, with many members of our Luxco community sticking around for the long haul … 25 years and more! Recently, two more people have received the coveted gift of abeautiful custom Rolex watch by joining this exclusive 25-year club at Luxco, Tammy Piotrowski and Don Doran – and both have contributed in helping make Luxco the company it is today.
TAMMY PIOTROWSKI
Tammy started at Luxco, then known as David Sherman Corporation (DSC), on September 5th, 1989 as a processing clerk. She would hold many other roles as her career progressed, including Assistant Processing Supervisor, Import/Off-Premise Coordinator, Purchasing and her current role, in government reporting. Tammy's hard work and dedication have personified Luxco's mission and she has been a joy to work with from the day she started. Her favorite part about working for Luxco is the many people she has met throughout the years. She warmly describes those people as feeling more like "family rather than coworkers."
"When I received my Rolex I was super excited," Tammy explained. "It seems like such a short-time ago when I first walked through these doors. 25 years has gone by incredibly fast. Receiving this token of appreciation meant a great deal to me. Thanks, Donn and the Lux family!!!"
DON DORAN
Don Doran, the Southeast Division Manager, joined DSC/Luxco in September of 1989 as a key member of the sales team. His likability, knowledge of the industry and work ethic allowed him to successfully build many important relationships to help expand Luxco in the Southeast region.
Don is known for his jovial personality, approachability and genuine care for everyone he comes in contact with. Luxco has been lucky to call Don a part of the family for the last 25 years and we know the feeling is mutual.
"I am truly honored and blessed to have spent 25 happy years with Luxco," said Don, when he was honored earlier this month. "The time has been truly rewarding and very fulfilling."
A sincere thank you goes to both Tammy and Don for your years of dedication to Luxco.
Congratulations on joining the Quarter-Century Club!