Rebel® Bourbon's New Look Celebrates the "Rebel Spirit in All of Us"
April 8, 2021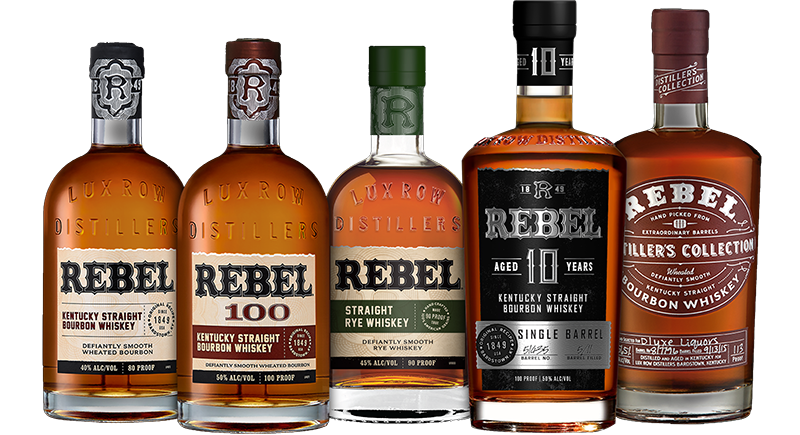 Over the past 18 months, the Rebel® family of brands has transitioned to a whole new look and a refined brand positioning.
The first quarter of 2021 marks the completion of that process, and the Rebel brand team couldn't be prouder of the results.
As part of its long-term brand strategy, the Rebel brand team introduced the Rebel Distiller's Collection, updated Rebel 10-Year Single Barrel, and evolved the rest of the brand family this past fall. The full transition of the Rebel brand is now complete, and these changes will be reflected at retail in the coming months.
The Rebel brand remains consistent in its celebration of the "rebel spirit in all of us." This positioning has been in place since Luxco® purchased the brand in 1993. In the years since, the brand has resonated with co-ed urban influencers between 25-39 who seek new, exciting brands and value unique experiences. This audience has embraced Rebel's sense of DEFIANCE, FREEDOM, ATTITUDE, and REBEL SPIRIT.
The new Rebel Bourbon packaging reflects – and even enhances – these core brand attributes. The bottle and label design remain consistent, with the transition to the Rebel name serving as the key differentiator. What remains is the tight bond between the brand and its core audience. Luxco Whiskey Brand Manager Eric Winter sums up the brand transition:
"Rebel's brand positioning continues to reinforce what the brand stands for and highlights what makes Rebel great – from its rich history (dating back to 1849) to its smooth, sweet flavor derived from its wheated mash bill. There's a reason Rebel Kentucky Straight Bourbon Whiskey, Rebel Small Batch Rye, and Rebel 10-Year Single Barrel have been Double Gold Medal winners at the San Francisco World Spirits Competition – and we haven't changed that."
Rebel 10-Year Single Barrel
Rebel 10-Year Single Barrel returns in 2021 with a new allocation and a new look. Master Distiller John Rempe has been keeping a close eye on select barrels of Rebel Bourbon that have been aging, and only a few among these are chosen to be part of the Rebel 10-Year Single Barrel.
While Rebel 10-Year's overall flavor profile remains faithful to the Rebel family with its smooth, wheated mash bill, aging for 10 years in a single barrel helps bring out the caramel and fruity notes that make Rebel 10-Year so unique and desirable.
"Aging 10 years in a single barrel makes a world of difference," said Winter. "This process not only brings out all of the sweet notes, caramel notes and fruity notes, it also results in an overall smoother taste."
Such a distinctive bourbon deserves distinctive packaging, and the Rebel brand team delivered in 2021 with a new, super-premium look. In keeping with brand enhancements made to the entire Rebel lineup, the new bottle features a bolder "Rebel" name, as well as a large "10" on the label to reinforce the bourbon's age. The brand's heritage is honored with an "1849" year callout at the top and a real, applied button at the bottom commemorating the "Original 1849 Recipe." Embossed on the shoulder of each bottle is "Lux Row Distillers."
This year's allocation produced just over 2,800 cases, or roughly 16,800 bottles. Launching this spring, these bottles likely won't last long on retailer shelves!