REBEL YELL® BOURBON LAUNCHES 10-YEAR SINGLE BARREL
October 5, 2016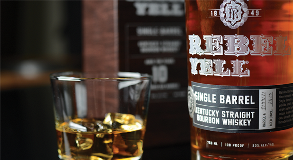 Rebel Yell® has had an ace in its back pocket for a while now. That unknown wildcard is the all-new, meticulously aged Rebel Yell 10-Year Bourbon. Not only is this ultra-premium bourbon of the highest drinking quality, it is also a magnificent shelf piece and collector's item for true bourbon connoisseurs.
Rebel Yell single barrel is patiently aged a full 10 years at 100 proof and hand-bottled one barrel at a time. A wheated bourbon, like the original Rebel Yell Kentucky Straight Bourbon Whiskey, the 10-Year offers a robust flavor with a complex and mature finish. The unique flavor profile of this extra-aged bourbon comes straight from the barrel in which it was stored. This dictates the aging process and produces differently aged barrels based solely on aging location. By bottling each barrel individually, there will be no two barrels alike. With an aroma of vanilla and dark fruits complimented by subtle citrus and oak, drinkers will indulge in the slightest of caramel and citrus flavors and experience a velvety smooth finish with just a hint of spice.
Each bottle boasts a specially designed silk-screened label featuring a stamped 10-Year medallion and a handwritten tag displaying the barrel number and "aged since" date. Each one of a kind bottle offers a premium matte finish closure and natural wood cork and is displayed in a custom dark wood-finish box. Rebel Yell 10-Year Single Barrel will be available in 750mL only, and will retail at $49.99. For more information, check out www.rebelyellbourbon.com.