REBEL YOUR COCKTAIL BARTENDER COMPETITION
September 29, 2016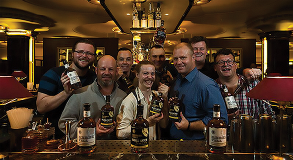 On August 22nd, in the heart of London, five bartenders gathered for the final round of the mixology competition known as "Rebel Your Cocktail". This face-off took place at Mash Steak London, where each competitor was able to utilize any whiskey from the Rebel Yell line. The finalists were challenged to make a premium cocktail with a modern flare. Thom Solberg from Black Rock in Soreditch, Tertius Wharton from Opium in Chinatown, Milan Kresan from The Churchill Bar in Portman Square, Lükas Gotze from Three Six Six in Battersea, and Harry Knox from the Boulogne Bar in Kentish Town all hoped to walk away as the "Rebel Your Cocktail" champion. The stakes were high, for the winner would be traveling to the Kentucky Bourbon Festival to showcase their recipe.
These skilled mixologists were judged by Greg Mefford – International Sales Director at Luxco, John Rempe – Master Blender at Luxco, and Dominic Roskrow – Writer and Expert at World Whiskey. Each competitor won five heats prior to the finals, where they would prove that they deserved to be at the Kentucky Bourbon Festival. Coming out on top, Thom Solberg whipped up the ultimate Rebel Yell cocktail. With the name inspired by one of the largest oil fields in the United States, the "Bakken" impressed all three judges the most. "Rebel Your Cocktail" brought great national awareness to the Rebel Yell brand, and it gave Luxco the opportunity to experience a global twist on a brand so close to home.

BAKKEN

50mL Rebel Yell® Kentucky Straight Bourbon Whiskey
15mL Amaro Angostura
10mL Velvet Falernum
5mL Walnut Oil
Zest of Half a Lime
Shake ingredients hard over ice and double strain. Garnish with a side of flamed baby sweetcorn and fresh plum halves and cherries. Add a torched ear of corn to the drink and enjoy.