Rebels Uncaged: Custom Motorcycle Winners Announced
December 28, 2016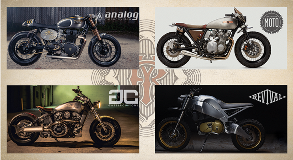 The Rebels Uncaged promotion ended on September 30th with more than 400,000 entries, and the four lucky winners of the custom café racer motorcycles have been announced!
Each builder poured their heart into customizing these motorcycles to truly reflect the Rebel Yell® rebellious spirit, and of course, add a splash of their own unique style. Making these motorcycles even more special is the journey they took, together with their respective builders, to be introduced and celebrated at the 2016 Buffalo Chip® Sturgis® Motorcycle Rally™ in South Dakota.
The motorcycles were delivered to their new owners in early December, along with some Rebel Yell® gear so the winners can share their love for Rebel Yell as they take to the road on their custom bikes.
The Rebels Uncaged promotion will return in 2017 to bring another set of customized motorcycles reflecting the rebellious spirit of Rebel Yell!
The winners are:
Joseph Cappadora from Brooklyn, NY took home the
Re-Buell bike built by Revival Cycles.
Scott Taylor from Spanish Fort, AL won the KRZ-1 built by Classified Moto.
Kevin Keene from Simi Valley, CA received The Outlaw built by Gasser Customs.
Jon Powell from Sun City, AZ won the El Matador 2.0 built by Analog Motorcycles.