Rick Przebieda Receives Prestigious Paul A. Lux Award in 2019
April 1, 2020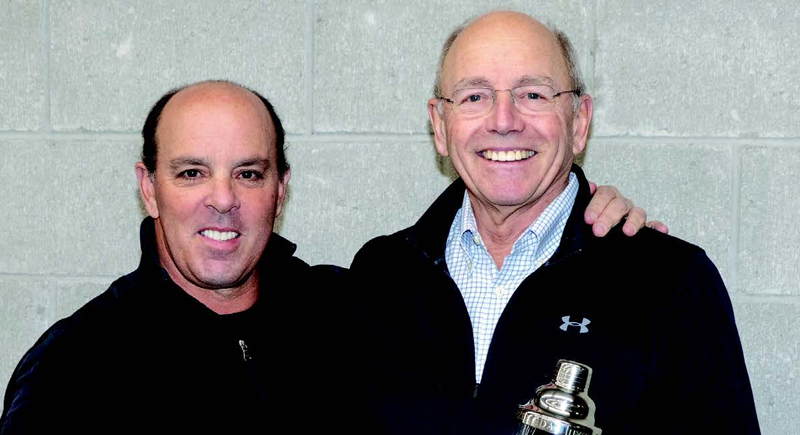 Rick Przebieda, Luxco® Control States, NABCA and Governmental Affairs Liaison, received the prestigious Paul A. Lux Award in 2019. "It's hard to believe 13 years ago I walked into this building for the first time," Rick said as he accepted the award – a glass martini shaker engraved with his name – from Donn Lux in the Kemper office. "Considering the namesake and past recipients of this award, I couldn't be more humbled and honored to receive this honor."
A Luxco® tradition since 2008, the Paul A. Lux Award recognizes an individual for his or her outstanding achievement, dedication, integrity and commitment to Luxco. The award was named after Paul A. Lux, the founder of Luxco/David Sherman Corporation, as a tribute honoring his vision and legacy. Recipients are nominated by their peers.
"Each year, this honor is given to an outstanding individual who exemplifies the values of this company and the qualities my dad would like to see," says Donn. "Rick is a Luxco man through and through, and I'm proud to present him with the 2019 Paul A. Lux Award for his incredible leadership of our control state business."
As Luxco's Control State Business Unit Manager for the past 13 years, Rick, who lives in Columbus, Ohio, has spent the majority of his time managing a team of control state district managers, interacting with state government officials, overseeing the management of Luxco's broker partners in the control states, and collaborating with the brand marketing teams to ensure all collateral and promotions adhere to state guidelines.
Now, as the Luxco Control States, NABCA and Governmental Affairs Liaison – a role to which he transitioned in January 2020 – Rick serves Luxco in an advisory role, working closely with state governments and directors of control states to keep Luxco top of mind, and also working closely with senior management.
"In the last 13 years with Luxco, I am most proud of building out a highly successful control state team," Rick says. "I see this award as less of a personal achievement and more of a reflection of the success of the entire control state team; it's a team effort."
Rick has enjoyed watching the evolution of the company, especially the additions of Lux Row Distillers™ and Limestone Branch Distillery™, and says the future of Luxco is bright and brilliant.
"I only met Paul Lux once, but I can't think of anything more flattering than being recognized by my peers and joining such an esteemed group of people I've always looked up to within this company and industry," says Rick. "Thank you, Luxco, for an incredible team, and for this honor. I couldn't be happier."
Rick and his wife, Kelli, have lived in Ohio for 26 years and have two grown sons – Steven, who also lives in Columbus and works in the same industry as Rick, and Brad, who lives in Charlotte, North Carolina, with his wife Katie and dog Charlie. In his free time, Rick enjoys playing and watching sports, especially golf – he loves studying the history of the game and the players, learning about the
equipment and trying to play as many of the famous courses as possible.
Congratulations to Rick Przebieda – the 2019 recipient of the Paul A. Lux Award!