Saint Brendan's Continues to Outpace Irish Cream Category
October 14, 2013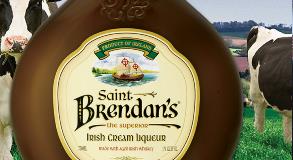 We can't think of a better way to warm up a cold winter day than with our award winning Irish cream. It's smooth, rich blend of triple distilled aged Irish whiskey and fresh dairy cream can be enjoyed on the rocks, in a cocktail, or in your coffee. Year-in and year-out, Saint Brendan's continuously proves to be a fast mover on the shelf because of its superior taste and impactful packaging. This year is no exception, as case sales are up +7%, (per NABCA R12).
Rich in history, Saint Brendan's is produced at one of most distinguished dairies in Ireland. It's named after St. Brendan the Voyager, who, according to Irish legend, discovered America 1,000 years before Columbus.
The pride we have in Saint Brendan's resonates in the care we exhibit with each bottle. We use only the finest, natural ingredients — free of artificial preservatives, flavors and coloring.
It's important to know where your food comes from, and here at Luxco we can trace back the cream in each bottle of Saint Brendan's to the farm it came from. Our Irish Friesian cows are grass fed to ensure they produce only the highest quality cream.
Saint Brendan's is available in 50mL, 750mL, 1.0L and 1.75L bottles.
Remember, Wherever you go and whatever you do, may the luck of the Irish be with you!