Saint Brendan's Irish Cream Wins Top Honors at SIP Awards
May 27, 2014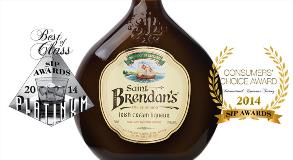 Saint Brendan's Irish Cream earned the Platinum – Best of Class award at the 2014 SIP Awards spirits competition. The product, made in Ireland and imported by St. Louis-based Luxco, took top honors in the coffee/cream/dairy/egg liqueur category of the competition.
The SIP Awards have become an increasingly popular and important international competition – where consumer taste is king. In addition to boosting brand recognition, award winners enjoy the power of consumer choice credibility. The SIP Awards panel members have no affiliation with marketers, wholesalers or spirit label distributors – judging is conducted by the consuming public. Each spirit is presented undiluted and chilled and the judging panel scores based on aroma, taste and finish in a blind tasting. Hundreds of brands enter the competition, but only the highest scores receive honors.
"We are extremely excited to be awarded Platinum, Best in Class from the harshest critic around – the consumer, said Laura Bogart, Brand Manager at Luxco. We have always felt it was superior tasting because of our blend of triple distilled Irish whiskey and cream from grassfed cows. But what makes St. Brendan's unique is that it is made with natural ingredients, free of preservatives and artificial flavors. We can actually trace the cream used in each bottle to the farm it came from in Ireland."Saint Brendan's is available in 50mL, 750 mL, 1L and 1.75L bottles. The product has seen an increase of 7% in case sales in the past year, with growth expected to continue.