Saint Brendan's St. Pat's Day Promotion
January 8, 2014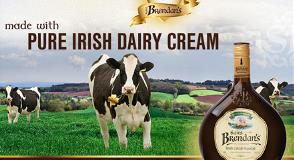 St. Patrick's day offers an opportunity to boost on- and off-premise placements for our Saint Brendan's Irish Cream.
This year, Luxco Marketing is offering a program to help you sell-in more cases and increase off-premise placement. Program items include; fun branded items targeted for on-premise distribution and impactful case cards and shelf talkers for off-premise.
See this Sales PPT for more information. Also attached is the order form for off-premise items.
Key Dates
Order Window: January 8th – 14th
Delivery Date for items: January 29th – February 5th
Why Participate?
Opportunity to generate awareness and excitement for our brand on-premise

On-premise push will generate buzz for our brand and reach consumers who are engaged in our product
Retail POS off-premise helps build brand equity at point of purchase

Marketing funded program

Marketing will support up to $40,000 in branded program items and retail POS

Our money stretches further

Ordering in bulk allows us to take advantage of the best pricing possible and increase our quantities
***Please contact Laura Bogart with any comments or questions.
Thanks and happy selling!