SAINT BRENDAN'S WINS BEST OF CLASS AT SIP AWARDS!
May 27, 2014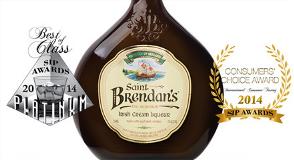 As we all have known for years, Saint Brendan's is truly a superior tasting Irish Cream. Now, we have some official proof from the the people that matter the most – the consumer!
Saint Brendan's Irish Cream earned the Platinum – Best of Class award at the 2014 SIP Awards spirits competition. The SIP Awards have become an increasingly popular and important international competition – where consumer taste is king. In addition to boosting brand recognition, award winners enjoy the power of consumer choice credibility. The SIP Awards panel members have no affiliation with marketers, wholesalers or spirit label distributors – judging is conducted by the consuming public. Hundreds of brands enter the competition, but only the highest scores receive honors.
Use this awesome recognition as new ammunition in your sales pitches for Saint Brendan's!