SALES TEAM TRAVELS TO IRELAND AND MEXICO TO LEARN MORE ABOUT LUXCO® PRODUCTS
July 13, 2017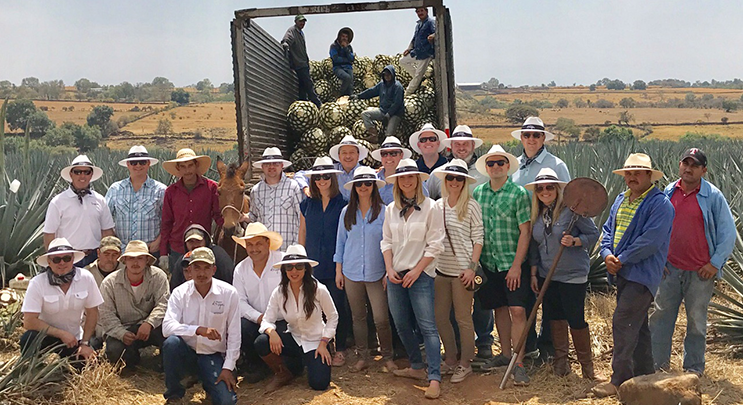 Rodolfo and Graciela González, along with Donn, took a group of the sales team to visit the nearly completed Distiladora González Luxco (DGL) in Arandas, Mexico in the state of Jalisco. While in Jalisco, they also took a tour of the agave fields where the Blue Weber agave is grown to make our El Mayor® and Exotico® tequilas. They witnessed the process of tequila creation including the cooking, extraction, fermentation, distillation, and product lab testing segments. They then got the opportunity to plant a baby agave that will eventually be made into our fine 100% agave tequila in a minimum of 7 years.
In Northern Ireland, Master Distiller Ciaran Mulgrew led the team on a grand tour where he shared the vision of what will be the new The Quiet Man® Craft Distillery in Londonderry—the first distillery in the area in more than 100 years. Ciaran also took the group on a tour of Niche Drinks, where our very own Saint Brendan's® Irish Cream is produced and bottled.
This trip really gave the sales team a better understanding of the history behind the brand. The Quiet Man Irish Whiskey is a tribute to Ciaran's father, who saw a lot of things and heard many stories in his 50 years as a bartender, but he was always true to his code and told no tales. The team was able to partake in tastings, group dinners, and traditional Irish music to end the evenings, which made for a memorable experience.
Both of these trips allow our sales team to fully immerse themselves in the heritage of the different brands in our portfolio in order to confidently represent Luxco and value the hard work that goes into crafting our products.