SALVADOR'S GETS A TOP SHELF BOOST
April 2, 2014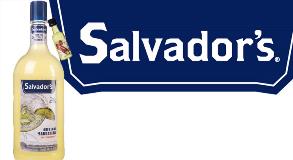 This summer, consumers who enjoy the taste of our Original 26 proof formula will get a little something extra with their purchase – a chance to taste Salvador's Top Shelf Margarita!
The 2014 Salvador's summer program features a 50mL of Top Shelf attached to a 1.75L of the Original 26 Proof. Salvador's Top Shelf delivers all of the proven attributes of Salvador's original, but with an authentic 30 proof kick that creates a full-flavored, delicious margarita. Made with premium tequila and triple sec, Top Shelf does not compromise on taste. It requires no measuring, no mixing, and no fuss; just open, pour, and enjoy a perfectly crafted cocktail that's sure to quench your thirst on any hot
summer day!
We already know Salvador's is a hit … Once consumers get a taste of our premium margarita they'll reach for Top Shelf every time!