Salvador's Summer Program – Ready When You Are!
January 21, 2014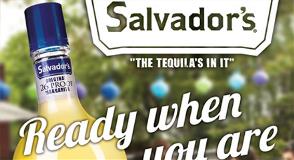 Gear Up For Summer with the Salvador's Summer Program!
Now is the time to start preparing for the Summer selling season, and what better way than to participate in the 2014 Salvador's Summer Program!
This program strategically allows us to promote Salvador's off-premise during its seasonal peak by elevating the brand and building brand equity at point of purchase. It also will generate awareness of our Top Shelf offering and incent consumers to trade up.
See key info below and view more details via the program PPT. Also below is the order form for off-premise items.
Salvador's 2014 Program PPT
Salvadors Summer VAP Allocation Form
Promotional Tactics
VAP featuring 50ml of Salvador's Top Shelf
Retail POS designed to highlight the brand, making it appropriate year-round
Key Dates
Order Window: January 28th – February 4th
Delivery Date for items: April 1st – April 8th
Targeted Display dates: May 1st – August 31st
***Please contact Laura Bogart with any comments or questions.