SAN ANTONIO COCKTAIL CONFERENCE PARTY FOR A PURPOSE
April 4, 2017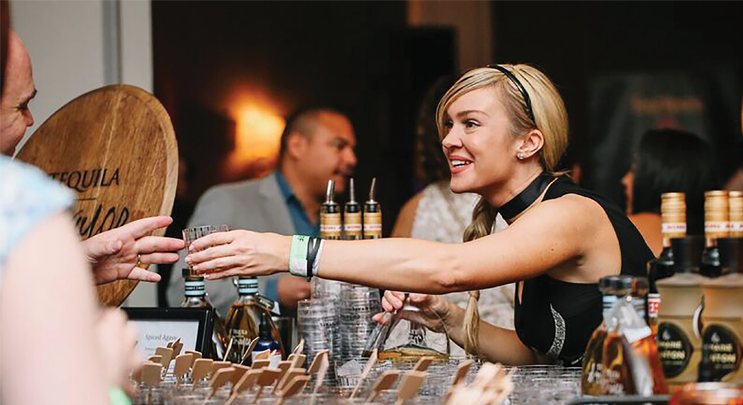 For the past six years, the San Antonio Cocktail Conference has brought together top bartenders and cocktail enthusiasts for educational seminars, guided tastings, and cocktail parties right in the heart of Texas. Not only is this an entertaining week jam-packed with activities, Houston Street Charities donates 100 percent of its profits to benefit deserving local children's charities. This year, Children's Shelter, Clarity Child Guidance Center, and TEAMability were the lucky recipients. Unlike most industry events, the San Antonio Cocktail Conference is all about learning the art and appreciation for the cocktail, while helping the children of the community.
Friday Night in San Antonio, we brought El Mayor® Tequila and Rebel Yell® Bourbon to the historic St. Anthony Hotel, which formed a large footprint for Luxco®. Consumers tasted two signature drinks created by mixologist Trevor Landry of Dallas. The Spiced Agave cocktail gave El Mayor Reposado a chance to shine with a rich, bold flavor. Rebel Yell Kentucky Straight Bourbon Whiskey was showcased in a Black Manhattan, a modern spin on the classic cocktail.
Saturday afternoon, Exotico®, El Mayor, and Rebel Yell were positioned side by side at the Valencia Hotel for neat tastings of each brand's family lineup. Luxco's Portfolio Ambassador Team was on hand to inform consumers of these three focus brands. Jennifer Dunn spoke of the vibrancy and liveliness of Exotico, Javier San Martin explained the romance and history behind El Mayor, and Selnika Kandula excited consumers about the future of Rebel Yell at Lux Row Distillers. Overall, this gave Luxco the chance to truly connect with people who have a passion for quality spirits.
The final night of the conference was the Stroll on Houston Street, which had guests wandering up and down two blocks from Bohanan's Courtyard to IBC Plaza. Along the way, party goers enjoyed a live 18-piece orchestra on the plaza, photo booths, unique cocktails to sip on, and delicious eats from local restaurants. This is where Exotico Tequila stole the show. A 250 pound sugar skull ice sculpture attracted consumers and industry professionals alike. With the opportunity to sample Exotico blanco and reposado straight from the Unbound Spirit, or indulge in our signature Carrot Patch cocktail, it was nearly impossible to walk by without trying Exotico!
A 10'x10' Exotico backdrop quickly became a popular spot to pose for group photos, while branded masks, shot glasses, and light up beads served as the perfect props. Luxco's Portfolio Ambassador Team educated guests about our 100% agave portfolio, our relationship with Destiladora González González, and the captivating brand that is Exotico Tequila.
Although it was Luxco's first year involved in the San Antonio Cocktail Conference, we made sure to create quite the first impression by sampling over 2,500 consumers throughout the course of the weekend. Luxco prides itself in making genuine connections with the people who enjoy our brands, and we look forward to every opportunity to do so.