SCOTT SOWLES – 2014 OUTSTANDING EMPLOYEE AWARD RECIPIENT
April 17, 2015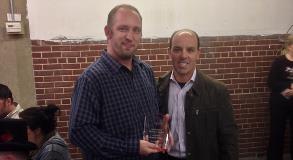 At Luxco's corporate office, the faint thumping of someone briskly jogging through the office on his way to his next task is a familiar sound that everyone can relate to and associate with one employee – Scott Sowles.
Scott, Luxco's IT Specialist, was the 2014 winner of the Outstanding Employee Award, and the recognition is definitely much deserved! Scott joined the Luxco family in October 2010 as a contractor, but was hired on full-time shortly after. Scott's tremendous work ethic and dedication can be witnessed day-in and day-out. He always hustles to complete multiple tasks needed by all Luxco employees (hence the persistent jogging in the office), including daily rounds of checking on each employee ensuring everything is working okay for them, answering IT support calls from employees across the country, setting up new employees with Luxco computer logins and much, much more!
When Donn announced Scott as the winner of the award, Scott was both stunned and humbled.
"I was surprised to say the least," Scott explained. "I just try to do the best for everyone and make sure others can do their jobs, so to receive the award and to be recognized was a great honor. I love my career here at Luxco, and I hope to continue to provide top notch support for everyone. Thank you again to Donn and all those who thought I was deserving of this honor."
Thank you, Scott, for all of your hard work! We don't know how we would get through each day without you!