STURGIS® MOTORCYCLE RALLY™ LETS OUT A REBEL YELL®
October 4, 2016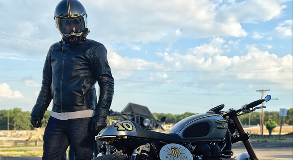 Partaking in a cross-country trek, these motorcycles, their builders, and our Rebel Yell® bourbon made their way to the 76th Annual Sturgis® Motorcycle Rally™ in Sturgis, South Dakota for a memorable week of bourbon and bikes. Undoubtedly, the Rebels Uncaged program brought a mountain of new experiences, victories, hurdles, and excitement to the Rebel Yell brand this summer.
As the official bourbon sponsor of the 2016 Sturgis Buffalo Chip® Rally, Rebel Yell was the brand flying high above the bars, stages, and the 25' x 25' footprint directly across from the main stage on the festival grounds. The 10-day festival brought thousands of motorcycle enthusiasts and bourbon drinkers together for live music featuring Kid Rock and Miranda Lambert. The Rebels Uncaged program was supported with a mix of retail displays, event samplings, and digital and social media, all designed to drive consumers to sign up at www.rebelsuncaged.com for a chance to win one of the custom motorcycles.
The program also included a limited edition Rebel Yell bottle, released just in time to support the ride to Sturgis. Beginning in St. Louis, home of Rebel Yell, the motorcycle builders took off on August 3rd and headed for Kansas City, Missouri. From there, they traveled to Council Bluffs, Iowa and then Sioux Falls, South Dakota before hitting their final destination of Sturgis. In each of these cities, Rebel Yell partnered with local Hy-Vee stores to host consumer events, which showcased the bikes to the public and allowed consumers to sample the bourbon and engage with the brand. Mother Nature and mechanical difficulties tried their best to hinder the good times along the 6,000 mile road trip, but the crew persevered and had an unforgettable time on their Midwestern journey.
After an unpredictable four-day adventure across the Midwest – even facing a too-close-for-comfort tornado in Council Bluffs that forced the group to briefly seek safe haven – the entire crew safely made it to Sturgis ready to take on the festivities. Along the way,
Rebel Yell was featured in five different radio and television segments in four media markets across the Midwest. Once the bikes finally rolled across the stage at Buffalo Chip, the builders were met with roaring applause from thousands of attendees. There is no doubt the Sturgis Motorcycle Rally let out quite the Rebel Yell in 2016. Until next year, Sturgis. Thanks for the memories.