TALES OF THE COCKTAIL 2016: EVERCLEAR®
October 1, 2016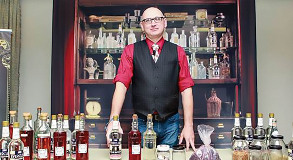 For the second year in a row, Everclear® brought back its Make It Your Own® campaign to the 2016 Tales of the Cocktail event in New Orleans, Louisiana. As spokesperson for Make It Your Own, Ted Kilgore came along to educate guests on the many uses and benefits of experimenting with Everclear in mixology.
Being a neutral grain spirit, Everclear has the capability to extract even the subtlest of flavors. By using Everclear instead of vodka, you are able to get a more pure, pungent, and rapid infusion – a mixologist's dream. Tales of the Cocktail was an ideal setting to inform industry professionals about the endless possibilities Everclear provides, and it's a great way to expose the brand to people that truly appreciate a versatile spirit.

"The most beneficial thing was the level of engagement with others in the industry – such as bartenders who are doing infusions and enjoyed talking details with Ted. They appreciated learning new flavor profiles and tricks of the trade. Those that were into infusions were surprised by how great the ones Ted created were, and many people were surprised by what could be created with Everclear®."
– Pia Reinhold, Public Relations
Changing the preceding mindset of consumers is the ultimate goal of the Make It Your Own campaign. The best way to show the evolution of Everclear is by giving attendees infusion samples so they can experience first-hand the powerful flavor of an excellent infusion. Each guest also went home with mason jars filled with dry hibiscus tea and easy-to-follow recipes hoping to encourage them to make their own Everclear infusion when they got home. Ted Kilgore enlightened industry professionals as well as cocktail enthusiasts on how simple it is to make custom infusions in order to produce the most specialized cocktails.