TALES OF THE COCKTAIL 2016: EXOTICO®
October 3, 2016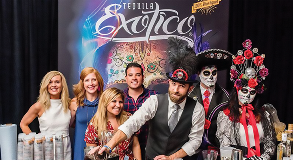 Hotel Monteleone was the host for 2016's Tales of the Cocktail, which featured Exotico® Tequila in a format that engaged consumers in a fun and interactive way. This event offered a great opportunity for tequila drinkers to get a closer look at the brand identity and culture behind Exotico Tequila.
Guests were invited in ten at a time, and started off with a tasting experience conducted by Luxco's Portfolio Ambassadors Javier San Martin and Jennifer Dunn. They were greeted with samples of two variations of Exotico Tequila: Blanco and Reposado. Bartender Trevor Landry provided custom-crafted cocktails to deliver the ultimate tequila experience. A Ginger Blanco highlighted one of this season's most popular trends, while the Cold Pressed Coffee cocktail made for an unexpected flavor combination leaving guests excited about the potential of Exotico Tequila.
The next station featured a face-painting artist who branded guests with the iconic Exotico skull. Not only was this interactive feature amusing for guests, it allowed the brand to be showcased far beyond the tasting room. As they made their way to the end of the activation, each participant had their cards scanned in hopes they would win an exclusive Exotico t-shirt to take home with them.
Approximately 700 individuals experienced Exotico Tequila at Tales of the Cocktail. With big things in store for the brand, this was an amazing kick off for the future journey of The Unbound Spirit.