Tales of the Cocktail
October 12, 2015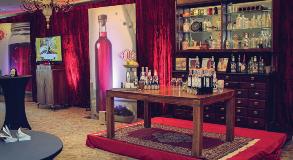 From July 15-19, New Orleans, Louisiana was the site of Tales of the Cocktail®, the world's premier cocktail festival. The international spirit community came together to discover what's now, what's new and what's next in bartending … and more than 500 of them discovered how they could make it their own with Everclear.
"The thing that I was not expecting was the level of curiosity the attendees had," commented Ted Kilgore. Kilgore is co-owner of Planter's House restaurant in St. Louis and the head mixologist for Everclear, with more than sixteen years in the beverage industry. He was the host of the Make It Your Own Tasting Room. (Make It Your Own also sponsored the Daiquiri Time Out Happy Hour.)
Ted added, "There was a constant stream of people looking for ideas for both home and professional use. I believe most went away with a new idea of Everclear® and its possibilities."
Many of the attendees – about thirty percent – were already using Everclear for bitters and liqueurs, and were very positive about how well Everclear worked for that purpose. The rest of the audience, though skeptical at first, quickly caught on to the concept.
According to Ted, people stopping by had fond memories of Everclear from their younger years. "I heard more than one person say they had to come because they had to see what we would do at an Everclear tasting room," the renowned mixologist said with a chuckle. "We took the opportunity to show them that Everclear can be a lot of things."