The Food Network & Cooking Channel South Beach Wine & Food Festival Presented By Capital One Launches SOBEWFF® & FIU Chaplin School Hospitality Industry Relief Fund With $1 Million In Initial Donations
March 26, 2020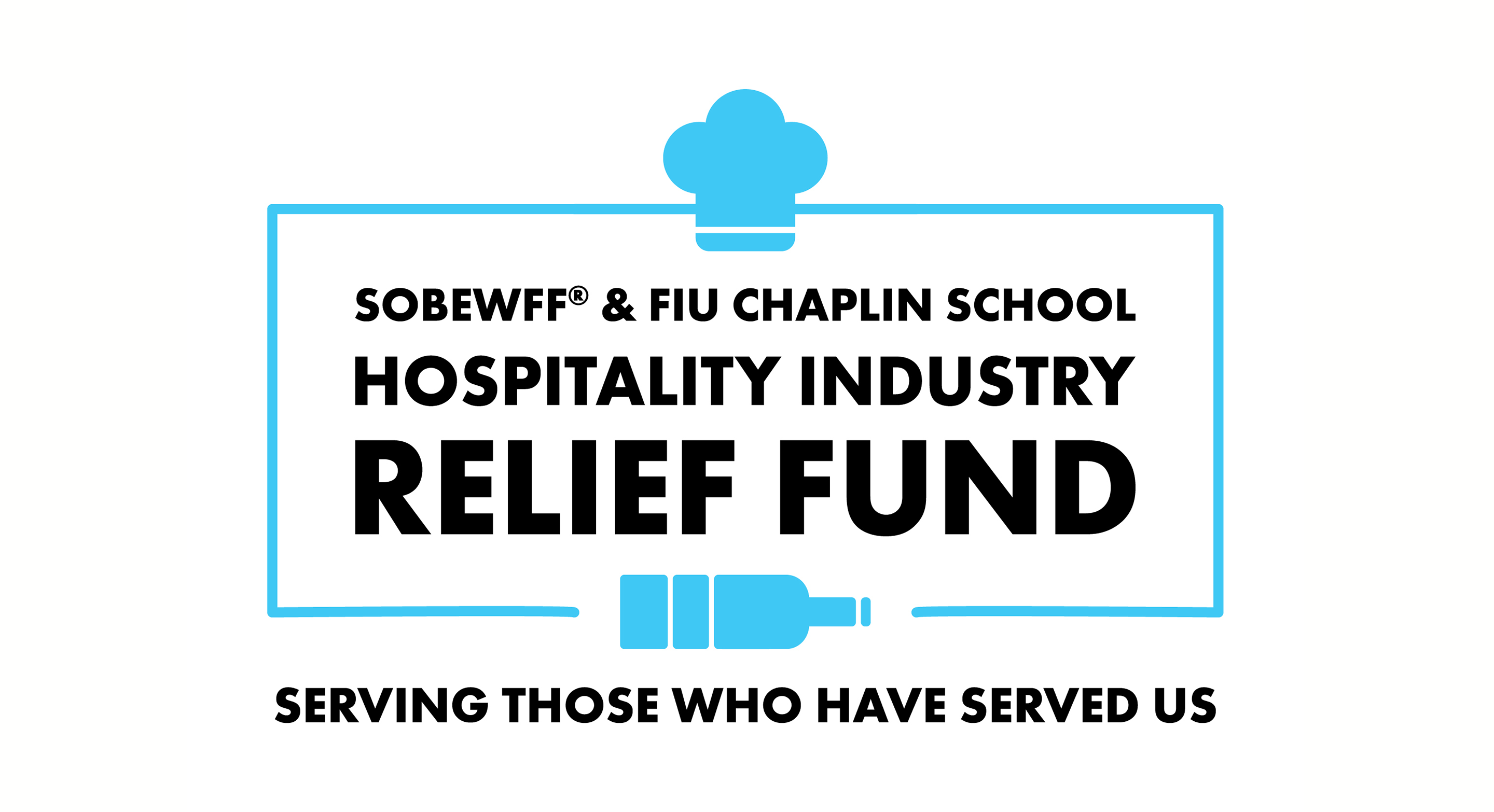 Thursday, March 26, 2020
– Fund to provide immediate financial support to independently owned and operated restaurants
and bars in South Florida impacted by the COVID-19 pandemic –
MIAMI BEACH, Fla.–(BUSINESS WIRE)– The Food Network & Cooking Channel South Beach Wine & Food Festival presented by Capital One (SOBEWFF®) has launched the SOBEWFF® & FIU Chaplin School Hospitality Industry Relief Fund to provide immediate financial support to independently owned and operated restaurants and bars impacted by the COVID-19 pandemic in Miami-Dade, Broward, and Palm Beach counties. The Fund has launched with an initial $1 million, including a founding donation of $500,000 from the Festival's benefiting charity, Florida International University's (FIU) Chaplin School of Hospitality & Tourism Management, along with significant additional financial support from Founding Partners Bacardi USA, Badia Spices, Luxco, Mast-Jägermeister US, Shaw-Ross International Importers and Voli 305 Vodka.
"The Festival's success over the past two decades has been dependent on the support and participation of so many talented chefs, restaurant owners, and bartenders from our local community," said Lee Brian Schrager, Founder and Director, SOBEWFF®. "With the hospitality industry facing unprecedented devastation, it's our turn to give back to the people in the industry who have been there for us, and we are prepared to come to their aid now, when they need us the most."
"We are so appreciative of existing partners like Badia Spices and Bacardi USA that have already stepped up to support this important effort, and know there are many more out there who are ready to do the same," added Michael Cheng, dean of the Chaplin School. "Our educational mission to cultivate the future leaders of hospitality would not be possible without those current leaders and individuals – from chefs, servers, and hosts, to bartenders, sommeliers and dishwashers – who work so hard day in and day out to support our students, and who feed and serve our community. We are happy to give back to our hospitality heroes in their time of need."
Grants will be provided to independently owned and operated restaurants and bars that have had to temporarily cease operations, lay off employees, or whose businesses have been severely diminished due to locally mandated closure orders. Financial support will enable those owners to provide continuity of compensation and other benefits to employees who have been furloughed, laid off or whose incomes have been significantly reduced due to the COVID-19 pandemic. The Fund will initially support the hundreds of restaurants and bars that have participated in SOBEWFF® anytime during the past five years. After that community has been served and as the Fund continues to collect donations to finance local relief efforts, it will open up support to any independently owned and operated restaurant or bar in Miami-Dade, Broward, and Palm Beach county that has been negatively impacted by COVID-19-related shutdowns.
Besides the initial monetary commitment, grant awardees will get access to resources provided by the FIU Chaplin School, such as support to business owners through a complimentary one-year annual membership to StartUP FIU Food's Entrepreneurs Educational Development (FEED) program, which offers ongoing industry expertise and management training in areas such as marketing and finance. Business owners will have the full use of the Florida Small Business Development Center at FIU. Relief fund participants will also have access to further their education through BacardiTeach, a dynamic learning partnership between Bacardi North America and the Chaplin School. Finally, when the crisis is over, recipients can choose to place up to two FIU interns at no cost to support their business operations.
For more information, to donate to the fund, or to apply for a relief grant, please visit www.sobewff.org/industry-relief
About the Food Network & Cooking Channel South Beach Wine & Food Festival presented by Capital One
EAT. DRINK. EDUCATE. All proceeds from the Festival benefit the students of the Florida International University Chaplin School of Hospitality & Tourism Management who also assist Festival organizers with sponsorship fulfillment, restaurant and exhibitor recruitment, logistics, and inventory as well as working alongside some of the world's greatest celebrity chefs and winemakers. To date, SOBEWFF® has raised more than $30 million for the School. In September 2018, BizBash named the Festival the #1 Food & Restaurant Industry event in the United States for the sixth year in a row.
The Food Network & Cooking Channel South Beach Wine & Food Festival presented by Capital One is produced by Florida International University and Southern Glazer's Wine & Spirits, with the support of the Miami Beach Visitors & Convention Authority and the Miami-Dade County Department of Cultural Affairs. For more information about the Festival, visit sobewff.org or call 877-762-3933. For more information about Florida International University visit fiu.edu, for the Chaplin School of Hospitality & Tourism Management visit hospitality.fiu.edu and for more information about Southern Glazer's Wine & Spirits visit www.southernglazers.com
About the Chaplin School of Hospitality & Tourism Management
Florida International University's Chaplin School of Hospitality & Tourism Management is distinguished as one of the top hospitality programs in the United States and the world. It is ranked in the top 50 globally, #1 for its online program, #1 in the Southeast region of the U.S., and it is best in value. More than 2,000 undergraduate and graduate students from across the nation and around the globe choose FIU for its outstanding reputation, advantageous campus locations in Miami, expert faculty, rich curriculum and fast-track career opportunities in the international hotel, foodservice and tourism industries. In August 2006 FIU unveiled the first U.S. school of hospitality and tourism in Tianjin, China. The Marriott Tianjin China Program, ranked #1 in China, is FIU's largest international program, with a capacity for up to 1,000 students. For more information about Florida International University's Chaplin School of Hospitality & Tourism Management, visit http://hospitality.fiu.edu/
About FIU
Florida International University is Miami's public research university, focused on student success. According to U.S. News and World Report, FIU has 42 top-50 rankings in the nation among public universities. FIU is a top U.S. research university (R1), with more than $200 million in annual expenditures. FIU ranks 15th in the nation among public universities for patent production, which drives innovation, and is one of the institutions that helps make Florida the top state for higher education. The Next Horizon fundraising campaign is furthering FIU's commitment to providing students Worlds Ahead opportunities. Today, FIU has two campuses and multiple centers, and supports artistic and cultural engagement through its three museums: Patricia & Phillip Frost Art Museum , the Wolfsonian-FIU , and the Jewish Museum of Florida-FIU . FIU is a member of Conference USA , with more than 400 student-athletes participating in 18 sports. The university has awarded more than 330,000 degrees to many leaders in South Florida and beyond. For more information about FIU, visit www.fiu.edu
View source version on businesswire.com: https://www.businesswire.com/news/home/20200326005197/en/
Southern Glazer's Wine & Spirits
Cindy Haas – cindy.haas@sgws.com
Jennifer Hanlon – jennifer.hanlon@sgws.com
Sofia Estevez – sofia.estevez@sgws.com
FIU Chaplin School of Hospitality & Tourism Management
Ivonne Yee-Amor – iamorz@fiu.edu
Source: Southern Glazer's Wine & Spirits