The Luxco® Family of Brands Continues to Expand with New Premium Launches
July 13, 2022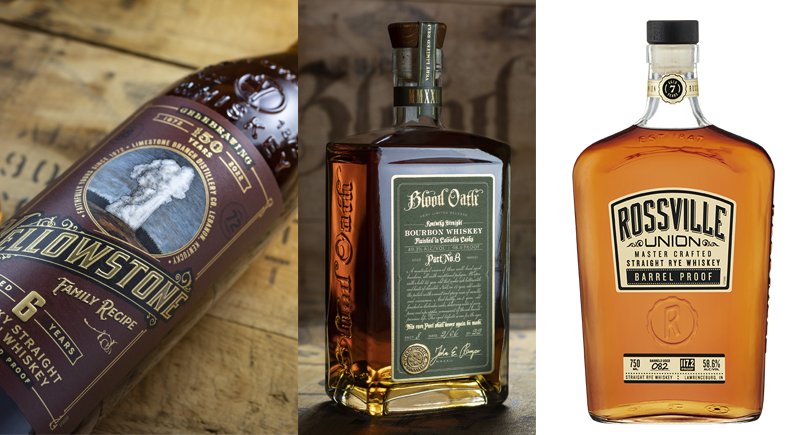 The Luxco® family of branded spirits continues to grow in 2022 – particularly in the whiskey category. So far this year, Luxco has celebrated three product launches – one each from Lux Row Distillers™, Limestone Branch Distillery™, and Ross & Squibb Distillery™.
Yellowstone® Family Recipe Bourbon is Stephen Beam's Nod to Family Distilling Heritage
In March, Limestone Branch Distillery Master Distiller Stephen Beam launched a product many generations in the making: the Yellowstone® Family Recipe. A recipe found in notes belonging to Stephen's grandfather, Guy Beam, inspired the new release. It also utilizes cloned yeast DNA from a yeast jug belonging to Stephen's great-grandfather, Minor Case Beam. Yellowstone Family Recipe reflects the original Yellowstone Bourbon mash bill and features its namesake's six-year age statement.
"Yellowstone Family Recipe is a dream I've wanted to fulfill for decades, and it's the recipe we have been distilling at Limestone Branch Distillery since 2015," said Stephen Beam. "I'm excited to have the opportunity to share it with the world this year!"
Yellowstone Family Recipe is bottled at 100 proof and carries a suggested retail price of $69.99. This spring, the limited production of 6,000 cases launched in select markets, and more markets will be added throughout the year.
Limestone Branch Distillery plans to offer Yellowstone Family Recipe as an annual limited-release addition to the Yellowstone Bourbon brand family.
Lux Row Distillers Makes Annual Pact with Bourbon Drinkers with Launch of Blood Oath® Pact No. 8
Spring has become synonymous with the annual pact Lux Row Distillers Master Distiller John Rempe makes with bourbon lovers everywhere. In April 2022, Rempe did not disappoint–launching Blood Oath® Pact No. 8 Kentucky Straight Bourbon Whiskey finished in Calvados Casks.
This year's Pact combines a 14-year ryed bourbon, an 11-year ryed bourbon, and an 8-year ryed bourbon finished in Calvados Casks. Calvados is an apple or pear brandy from the Normandy region in northwestern France distilled from cider and aged for a minimum of two years in oak casks. Like all Pacts, Blood Oath Pact No. 8 is bottled at 98.6 proof (49.3% ABV). A limited supply of 17,000 three-pack cases arrived at retail at a suggested price of $119.99 per 750 mL bottle.
"I'm proud to share this year's pact and particularly excited to include bourbon finished in Calvados casks," said Rempe. "The Calvados cask will add tasting notes characterized by slight apple on the nose, with hints of vanilla and cinnamon, as well as flavor notes of ripe apples, juicy pears, butterscotch, and even subtle hints of chocolate."
From the total allocation of 51,000 bottles, Lux Row Distillers will hold 1,400 Pact No. 8 bottles for a future Trilogy Pack release.
Rossville Union® 2022 Barrel Proof is Proof Positive as Ross & Squibb Distillery™ Earns "Masters of Rye" Title
Ross & Squibb Distillery™ launched Rossville Union® 2022 Barrel Proof this spring, its annual, limited release straight-rye whiskey. The release reminded everyone why it is known as the "Masters of Rye" and why its hometown of Lawrenceburg, Indiana, has earned the moniker "Whiskey City USA."
Featuring a medley of straight-rye mash bills, Rossville Union Barrel Proof launched in April with a limited allocation of 3,000 six-pack cases, bottled at 117.2 proof (58.6% ABV) and offered at a suggested retail price of $69.99.
New to this year's release are two numbers prominently placed on the neck of each bottle of Rossville Union Barrel Proof:
The number 82-reflecting the 82 barrels selected for this year's release.
And the number 7-representing the spirit's 7-year age statement.
"Rossville Union 2022 Barrel Proof is another example of the great rye whiskey tradition we've carried on at Ross & Squibb Distillery. And another reason Indiana is the rye capital of the world," said Ross & Squibb Master Distiller Ian Stirsman. "As the popularity of rye whiskey continues to grow, we've selected another exceptional medley of rye mash bills to satisfy even the most discriminating tastes among the ever-growing number of rye-whiskey drinkers."
Ross & Squibb has grown its distribution footprint from 16 states in 2021 to more than 45 states in 2022. As a result, brands like Rossville Union Rye and George Remus® Bourbon enjoy broader retail exposure: a win-win for the brands and consumers!