THE SUMMER OF PEARL® COMES TO A CLOSE!
October 6, 2014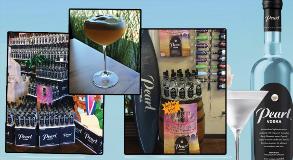 The summer has come to a close, and with that, Pearl Vodka's A Rare Escape Summer Promotion has concluded. One lucky winner, plus a guest, were chosen to enjoy an exotic five-night vacation in Tahiti at The Bora Bora Pearl Beach Resort & Spa!
Pearl reached over 35 million consumers through the multi-media strategy, which included Facebook, The Kitchn, Evite, People Magazine, Pandora and more! Pearl's Facebook fan base grew from 7,000 to 212K in just three short months, a 2,928% growth! It's not enough to only grow your fan base, but our loyal fans are just as excited about Pearl as we are, and they aren't afraid to let us know.
Here are a couple of examples of what the social world is saying about Pearl:
"I love Pearl Vodka; in fact, I'm having one now with a cranberry and soda."
"Your Plum Vodka with raspberry seltzer water and lime is amazing!"
"My mind is blown. Your vodkas have made me completely reevaluate my stance on vodka … but I will only drink Pearl."
"Your Cucumber Vodka might just be my new favorite thing … mixed with St. Germain, tonic, cucumbers and lime… amazing!"
Not only has Pearl seen amazing growth in the digital and social space, but our retail execution has really helped drive the brand forward. From the independent retail outlets to our larger chain customers, from surfboard display enhancers to "A Rare Escape" themed POS, from the simple to the dramatic. Additionally, Pearl's inaugural "What's Your Twist" mixology competition was also a huge success! Launched in Detroit, MI and Seattle, WA, we received dozens of innovative and unique recipes, each delicious in their own regard. Congratulations to the two winners, Henry Trexy Frost, bartender at Tutta Bella Neapolitan Pizzeria in Seattle, and Travis Carter, bartender at AQUA and CEO of Spirits on the Run in Detroit. Their delicious cocktail recipes were voted the Best of the Best by a popular vote and a panel of qualified tasting judges.
Check out their winning recipes!
Menage A San by Travis Carter
1 1/2 oz. Pearl Vodka
1 1/2 oz. Lychee Juice
1 oz. Domaine de Canton
The drink sits atop a brûlée layer of:
Wasabi
Avocado
Honey
Cream
Sugar
Liquefied Wasabi Spray
Pineapple Patriarch by Henry Trexy Frost
2 oz. Pearl Vodka
2 oz. Pineapple Nectar
Jalapeño
1/4 oz. Agave Syrup
5 oz. Fresh Squeezed Lemon Juice
Pineapple-Cinnamon Espuma