The USBG Lux Row Distillers™ Bourbon Battle Cocktail Competition
October 2, 2019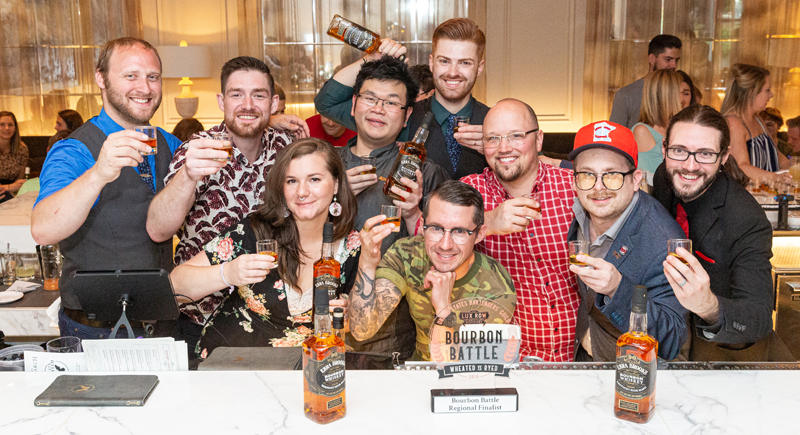 This year, mixologists from the US and UK were able to showcase their best bourbon cocktail made with either Rebel Yell® Kentucky Straight Bourbon or Ezra Brooks® Kentucky Straight Bourbon as they competed in the USBG Lux Row Distillers™ Bourbon Battle Cocktail Competition. Seven finalists ventured to Lux Row Distillers during the Kentucky Bourbon Festival in September for the ultimate bourbon showdown.
For the bourbon battle, mixologists were asked to submit their best cocktail recipes. A panel of expert judges selected 10 semifinalists to compete in six US cities: Cleveland, St. Louis, Louisville, Kansas City, Seattle, and Cincinnati. Narrowed down from hundreds of bartenders across Europe, three semifinalists also competed in the UK for the international portion of the competition.
The final competition at Lux Row Distillers was comprised of three rounds. In the first round, each of the seven finalists competed with their original recipe. The top four scorers, as determined by a panel of judges, then moved on to round two, where they competed with a new cocktail recipe using the opposite bourbon (the mixologists were instructed to finalize their new recipe prior to the final event). The top two scorers of round two then advanced to the final round, where they created a new cocktail recipe on the spot from a basket of mystery ingredients.
Taking home first place was mixologist Mikey Pendergast from the UK. He earned an extended education in the art of barrel selecting by tasting a variety of bourbon barrels stored at the distillery. Once his favorite was selected, a custom-made label will be created, and he will receive 60 bottles of his private selection of Kentucky's finest.