Theresa Koester Celebrates 35 Years at Luxco®
October 8, 2020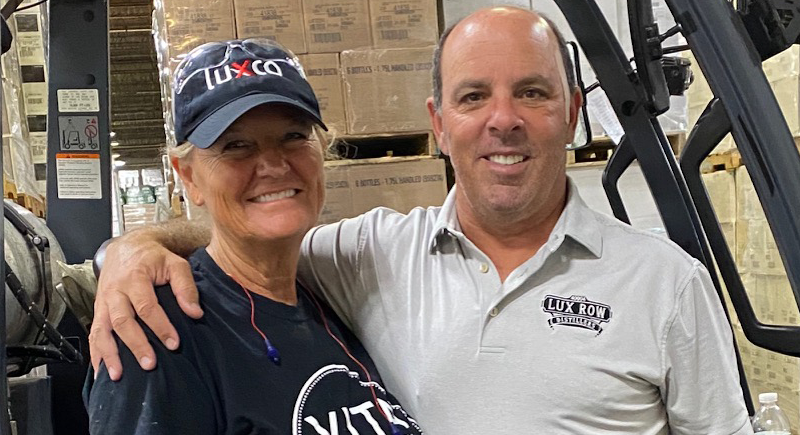 When Theresa Koester was growing up in West Texas, barrel-racing and working in the hayfields, she had no idea she would spend more than three decades working in the spirits industry and living in St. Louis.
Yet, this past August, Theresa celebrated her 35th anniversary as a member of the Luxco® family.
After graduating high school, Theresa joined the Air Force in 1979, where she worked on cargo planes in Charleston, South Carolina for four years. She then spent two years in the active reserve, working at a
naval shipyard doing inventory on submarines. It wasn't until 1985 that she moved to St. Louis and joined Luxco's bottle shop, counting bottles and working the lines. A few years later, she moved to the
warehouse, where she still currently works, driving forklifts, loading and unloading trucks and pulling orders. "So much has changed at Luxco since I began working here," she says. "Not only has the business
changed, but we have grown so much. When I started, we only had two production lines. Now we have more than doubled that, and we have distilleries in Kentucky, Ireland and Mexico. It has been great to see how much the company has grown."
One thing that has not changed over the years is the family atmosphere. "We work with a great group of folks – we work hard and get it done – and have great management as well," Theresa notes. Her favorite thing about working at Luxco is not only the camaraderie with her co-workers but also the active pace of the job. "I was driving tractors at 10 years old and now I drive forklifts. My dad always said 'do it right, or don't do it at all'," she says. Outside of work you might catch Theresa enjoying her favorite Luxco product, Salvador's® Classic Margarita, or gardening and going to the river. She also loves spending time with her daughter, Nikki, and her eight-year-old grandson, Mason.
Congratulations on your 35 years of service, Theresa!