Thomas Rhett and Cousin Jeff Worn Introduce Dos Primos™ Ultra-Premium Tequila
April 8, 2021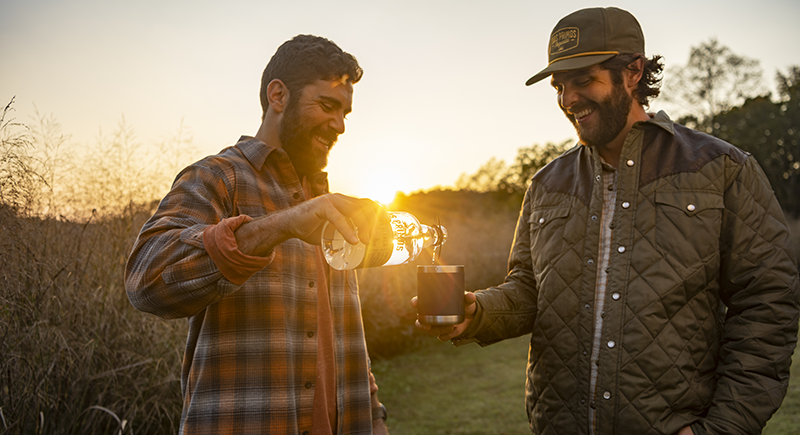 What do a reigning Academy of Country Music Awards "Entertainer of the Year," a global pecan supplier and an ultra-premium tequila have in common?
Everything – according to Thomas Rhett and Jeff Worn, who are cousins, lifelong friends, and co-founders of Luxco's latest ultra-premium tequila brand: Dos Primos™. Spanish for "Two Cousins," Dos Primos is the result of families coming together to create a superior tequila.
"Our decision to create a new tequila brand grew out of our shared love for family, celebration, and our deep respect of nature," said Thomas Rhett. "Jeff and I wanted to create a tequila that was expertly crafted and could be enjoyed year-round – regardless of the season or activity – with the people we care about most. The Dos Primos brand reflects who we are and what's important to us."
The Dos Primos brand journey began several years ago when Thomas Rhett, a multi-platinum country music singer and songwriter, and Worn, the owner and operator of a global pecan-processing business, were having drinks together after a day of skiing with their families. Sitting in a Mexican restaurant in Telluride, Colorado, the two men began sampling tequila and concluded they could and should create a better tequila. From there, they began exploring the art, craft, and history of tequila making.
"Jeff and I both appreciate the art and craftmanship that go into making high-quality products," said Thomas Rhett. "The details have always mattered to us – whether it's creating great music or sourcing the best pecans. When we decided to create a tequila brand, we did our homework and began working on a timeline that would be driven by the quality of the product, not the sale of it. Ultimately, we wanted to create the tequila we wanted to drink, but we needed the right partner to bring it across the finish line."
Following a 2019 Thomas Rhett concert stop in St. Louis, Thomas Rhett and Worn met with Donn and David. The men discussed their ideas and aspirations for an exceptional, new tequila for any season.
"After that initial meeting we knew we found our partner," said Worn. "Donn and David knew the tequila industry inside and out, they understood and respected our needs, and they value family, which is everything to us. I remember thinking, 'these Luxco guys are awesome!'"
Through the Luxco® connection, another family was brought into the Dos Primos fold: the González family and third-generation Master Distiller Rodolfo González. Destiladora González Lux (DGL), situated just outside the city of Arandas, Mexico, in the highlands of Jalisco, was the perfect location to source the superior agave used in Dos Primos.
"We knew DGL and Rodolfo would ensure every drop of Dos Primos would exceed everyone's expectations," said Lux.
Dos Primos is a blanco tequila made from hand-harvested 100% blue agave sourced from estates in Los Altos and the valley area of Jalisco, Mexico. The finished product is crystal-clear with beautiful, earthy herbal notes on the front palate, followed by smooth floral and citrus hints.
It's also gorgeous to look at. The Dos Primos packaging reflects its ultra-premium quality and its founders' attention to detail. Each bottle of Dos Primos features a natural wood cork and genuine black leather cord wrapped around the neck of a clear embossed-glass bottle. The fabric label is hand-applied in Mexico and bears the signatures of Worn and Thomas Rhett.
"There's no greater thrill or commitment than putting your name on something you believe in," said Worn. "Our names are more than just our reputation – they represent our legacy and our future. That's not something Thomas Rhett and I take lightly. We are proud of this product, we're grateful to the Lux and González families for their expertise, and we're excited to introduce Dos Primos." From Telluride to today, Thomas Rhett shares Worn's commitment and enthusiasm and looks forward to seeing Dos Primos in the market.
"It's been an incredible journey and we can't wait to see people enjoy it," said Thomas Rhett. "My wife and I love to enjoy tequila together, and I'm excited for people to share a bottle with friends, sip it around a bonfire, or enjoy it on a fishing trip or at a tailgate. Dos Primos is about unwinding and enjoying the people and things that really matter in life. It's about the memory you are making every time you raise a glass."
The Dos Primos launch earlier this year garnered impressive media coverage and interest from fans, tequila aficionados, and consumers. The product was featured in prominent national publications and leading industry outlets, and was amplified across social media by celebrities, influencers, and Thomas Rhett himself. "We always knew we had an exceptional tequila that would be in high demand, but the positive reception Dos Primos continues to receive has exceeded our high expectations," said McKenna Burst, Luxco Brand Manager. "With dedicated support from Thomas Rhett, Jeff Worn, and our Luxco team, Dos Primos is a brand that is going places, and we can't wait to see where 2021 takes it."
The Dos Primos launch is supported by the brand's year-round "Forged by Family" campaign, which includes on- and off-premise activations and promotions (including tastings), POS elements, special events, merchandise, Thomas Rhett 2021 tour sponsorship, and influencer activities. The new website – DosPrimosTequila.com – provides additional brand information and
identifies retailers.
Since its launch, Dos Primos Tequila has shipped over 11,500 cases and is currently available in 25 markets. Contact your Luxco sales representative for more information.