TIME TO REWIND! THE ORIGINAL PURPLE PASSION IS BACK!
April 2, 2014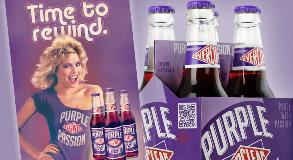 Who doesn't love the 80's? Playing your cassettes on your boom box, popping your favorite VHS tapes in your VCR, rocking some rolled-up jeans – and partying with some Purple Passion!
College students in the 80's made a delicious drink in metal containers (and often in bathtubs) on campuses nation-wide and Luxco (then David Sherman Corporation) capitalized on this popular concoction to create the iconic Purple Passion! Originally launched in 1986, Purple Passion was a pioneer in the Ready-to-Drink category. Branded with the Everclear name and canned for convenience, it was an immediate success, with sales reaching almost 1 million cases! We are excited to announce the re-launch of this product with a fun, retro feel which is a nod to the brand's origin.
Through the years, the brand has gone through many transformations, most recently sold as a 26 proof, spirit-based, non-carbonated drink. We're reviving the original formula of a 10 proof, wine-based, carbonated drink to address growing consumer demand. Consumers are increasingly favoring beverages that are light and flavorful, which fits Purple Passion perfectly. It's a great refreshing choice for the upcoming summer months!
The product will be bottled at our Meier's Beverage Group facility in Cincinnati. The suggested retail price for the 4-pack is $7.99.
Time to Rewind with Purple Passion!