Time to Rewind with Purple Passion!
April 1, 2014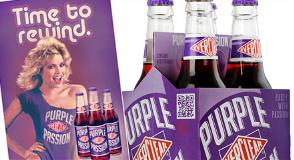 Purple Passion is ready to turn back the clock and relive its glory days! Jump on the bandwagon and help support this fun initiative!
Our main objective in this re-launch is to reintroduce consumers to Purple Passion & build brand awareness by creating brand buzz and promoting Purple Passion during the key seasonal peak (summer). This program is partially funded by Marketing, which will support up to $60,000 cumulative on the Retail and Branded POS items
Check out the attached sales deck for more details.
Important Information & Key Dates for Sales Managers
April 8th – 15th: Order window for Retail and Branded POS

Place Retail POS order on Brand Muscle (you will receive an email blast with instructions from Sara Crandall at Brand Muscle)
Send Laura order quantity for Branded POS in attached spreadsheet
Laura will communicate final order quantities on all program items to all DM's/SM's prior to submitting final order

Week of May 5th: Ship date for all program items