Tom "Tucker" Usher Joins the Quarter Century Club
December 29, 2016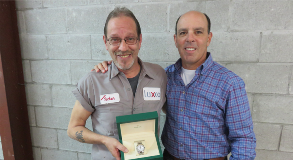 About five years into his career at Luxco, Tucker became a Glass Dumper, manually loading the production lines with glass bottles for filling. He has been perfecting this job ever since.
"Over the years, a lot of technology has changed in my job – from manually placing the glass on the line to working with machines to make the job more efficient," says Tom.
"It's been a great ride adjusting and adapting to all the changes in order to keep improving."
Tucker has worked on all the lines, but currently works on the A line. In his 25 years at Luxco, he not only became a part of the Luxco family, but also created his own – he and his wife have three children. He credits his longevity with the company to the great camaraderie and positive work environment. "You don't always find this kind of work environment, with a great group of people, too often. It keeps me coming back every day, and I am thankful to be here."
Congratulations on your 25-year anniversary, Tucker!