TWENTY-FIVE YEARS OF MEMORIES
July 6, 2015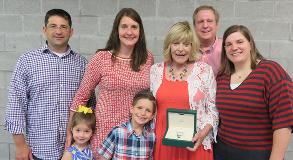 Nancy Stanovsky joined Luxco on June 4th, 1990, as an Administrator in the Sales Department, eventually moved to Operations, and most recently to our Finance Department, where she is the Sales and Compliance Administrator.
One of Nancy's favorite memories of her 25 years at Luxco is the trip the sales department took to Normandy, France, where employees visited World War II sites in jeeps that dated back to the era. A not-so-favorite memory? The fire drill that required total building evacuation, thanks to someone burning a lunch in the microwave.
All of the ups and downs, however, are just part of being with a company for a quarter-century. Nancy comments, "You know, there have been lots of changes over the years, and not all of them have been easy. But I've just tried to live by what my parents taught me: Work hard and do a good job."
Two of Nancy's three daughters, Kelli and Lauren, were able to attend the ceremony recognizing her accomplishment, along with Kelli's husband Jason and their children Parker, 7, and Harper, 5. (Of her grandchildren, Nancy gushes, "They're the loves of our lives.") Nancy's husband Denis was there as well to see his wife receive her Rolex.
"The watch – you know, it's interesting. That was what Mr. Lux wanted everyone to have for a twenty-fifth anniversary gift," Nancy notes. "I'm going to wear mine every day – because I'll see it and think about the Lux family and how blessed I've been for the past twenty-five years. Luxco is a great company."
Congratulations Nancy on this special milestone!