Vita Frute® and Salvador's® Expand Brand Presence in the Red-Hot RTD Category
July 14, 2021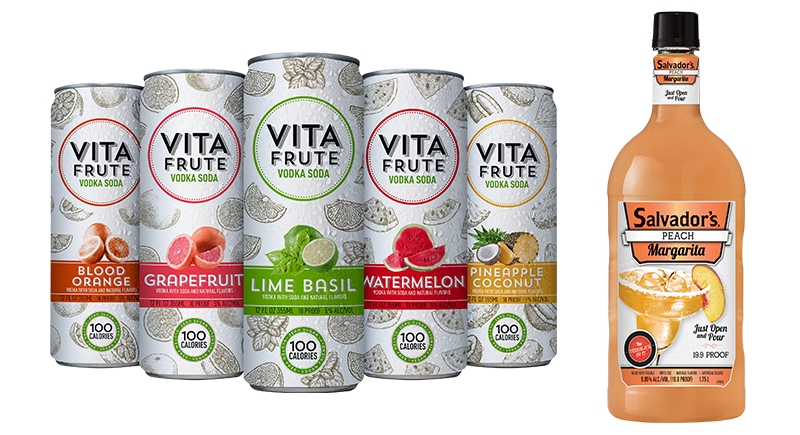 When it comes to cool adult refreshments, nothing is hotter than Ready to Drink (RTD) cocktails. According to recent IWSR data, the RTD category grew a whopping 43% in 2020 – largely driven by U.S. demand – and shows no signs of slowing down. The IWSR projects global RTD volumes will post nearly 22% compound annual growth between 2019 and 2024, taking share primarily from the beer category.
For Luxco® and its RTD brands, Vita Frute® Vodka Soda and Salvador's®, the outlook is bright. Vita Frute, which launched in 2020, recently added a Blood Orange variety and Original Mixed 12-pack to its list of offerings, while Salvador's debuted a new Peach Margarita in May.
Vita Frute Assistant Brand Manager Chelsi Hofmeister, who oversaw the April launch, said the response has been fantastic.
"Demand for Vita Frute continues to grow, and sales of our new Blood Orange 4-pack and Original Mixed 12- pack are on pace to meet our projections," said Hofmeister. "There's no doubt about it – people love these no-fuss, RTD options."
Salvador's Peach Margarita, billed as "the perfect balance of peaches and lime for those hot summer afternoons," is 19.9 proof by volume and is available in 1.75L and a 200mL 4-pack. It joins Salvador's family of ready-to-pour favorites.
"Salvador's is now a top-10 brand in the RTD Margarita category, and we expect to continue our growth and momentum with our latest flavor launch: Peach Margarita," said Kelly Panzitta, Luxco Trade Marketing Assistant.
For more information about Luxco's RTD offerings, visit the brand websites at vitafrute.com and salvadorsmargarita.com.