Welcome Greg Mefford
October 10, 2015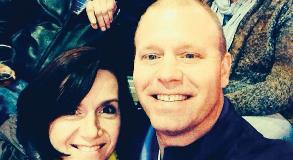 Greg Mefford was a consultant for Luxco for about a year before joining the team on March 1, 2015 as International Sales Director. "I consulted my way into a job, although that wasn't the intent," he says with a laugh.
Previously Greg worked for Ernest & Julio Gallo for 14 years, spending nine of those years in Europe – in Brussels, Belgium and Paris, France – trying to help the wine maker break into the French market. His two daughters, Noelle and Alison, were both born in Belgium.
For Luxco, Greg literally has some
far-reaching goals: build the company's product distribution in the European and Asian markets and see consistent sales in both places. "We haven't focused on the international market in a serious way in the past eight or so years," Greg notes. "Today we have a more robust portfolio of brands, particularly in our bourbons, so now is the time."
According to Greg, bourbon is a current trend, in high demand around the world, and Luxco can meet that demand with premium brands like Yellowstone, Ezra Brooks, David Nicholson 1843®, Paramount, Straight Western®, Bellows®, Dan Tucker®, Kentucky's Choice® and Greg's favorite … Rebel Yell.
"I am partial to Rebel Yell – I'm a wheated bourbon guy," Greg confirms. He adds, "But a close second for my favorite Luxco product is El Mayor tequila." Greg recently visited the El Mayor distillery in Guadalajara, Mexico and gained a new appreciation for the care that goes into the making of the spirit. "The artisanal process reminds me of wine making, actually … I learned a lot," he said.
In his spare time, Greg fronts a band that goes by the name of 'Deaf Mefford,' in which he plays guitar and sings. Friends from high school play in the group and Greg's wife, Caryn, sings as well. "It's really a lot of fun." Deaf Mefford primarily plays charity gigs, including an annual one benefiting Siteman Cancer Center called 'Rock the Cure.'
But here's the good news: Greg probably won't be quitting his day job to go on the road. "Luxco is an amazing company, in that it's such a tight-knit group – it's an interesting work environment. A big, yet small, company," Greg says.
"Since I started, everyone has been wonderful, welcoming and patient! This is a great place to come to work every day."