WHERE ARE THEY NOW? WITH ELI CANNON
July 1, 2015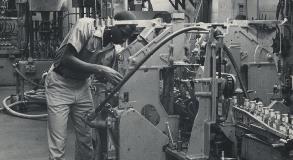 One of Eli Cannon's favorite memories of working at Luxco was his very first – when Paul Lux hired him to work for the company in April of 1969.
"Mr. Lux was a very kind man, and he was always there for me," recalls Eli, who went on to work for Luxco for the next 42 years as a hand truck loader, a labor operator and a maintenance supply and delivery person. He also did odds and ends for the Lux family. "I miss seeing them, especially Mrs. Lux. I used to help around the house, and we'd have conversations … Mr. Lux talked to me like I was his own son. He was the kindest person to work for."
While Eli enjoyed his career, it's clear that he's enjoying retirement even more. First on his post-Luxco list was a long vacation with his wife; next, pursuing hobbies such as fishing, riding his motorcycle, fixing things around the house, walking a few miles (here and there) and relaxing with some Classic Pearl® when he's feeling nostalgic.
He does keep in touch with some of his friends from Luxco, and tries to stop by the plant at Kemper every six months or so.
"There's nothing like being retired and taking life at your own pace," Eli says. "I don't have to worry about who I have to please, or who I will upset. It's a feeling like no other in the world."