WHERE ARE THEY NOW? WITH NICK RANIERI
July 2, 2014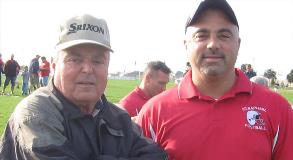 Luxco has grown into a legitimate player in the beverage alcohol industry. Our success
we enjoy today started from humble roots, though … and Nick Ranieri helped pave the way.
Nick Pranieri's Luxco career (then David Sherman Corporation) started in 1981, when Mr. Paul A. Lux hired him as one of the first four sales managers in the company. He was hired as the North Central Sales Manager, with a territory consisting of MN, WI, IL, IN and eventually, KY (where he replaced the original KY state manager … Donn Lux!) Over the next 20 years, Nick played a huge role in growing the company and the Luxco brands (especially Purple Passion, as he oversaw the premier Purple Passion territory). His work ethic and knack for making friends and fostering relationships allowed Luxco to generate the solid reputation and success we enjoy today. When he retired in December of 2001, he left a legacy for all sales managers and employees to emulate.
Nick looks back on his Luxco days with great fondness. "My time at Luxco was some of the best years of my life," he said. "The 20 years went by so fast and I really enjoyed the relationships I made with Mr. Lux, Donny, and all the guys."
Today, Nick is loving life. He lives in Olympia Fields, IL, with his wife of 55 years, Phyllis. He continues to stay active and in shape at 78 years-of-age. He plays golf three times a week, works in his garden, attends football, basketball, and lacrosse games with his three children, Christy, Julie, and Nick Jr., and seven grandchildren! He also loves vacationing to his favorite island getaway. "If I had my way," he said, "I would be sitting on a lava rock on the big island of Hawaii right now sipping a Pearl Gin!" Even after all these years of retirement, Nick is still a Luxco salesman at heart. "You can't take the sales out of a salesman," he stated. "To this day, I still walk the aisles of the liquor section and see what's going on."
Thank you, Nick, for helping pave the way for us all. Here's to a continued happy retirement! Cheers!