WHERE ARE THEY NOW? with SUE COLEMAN
January 5, 2015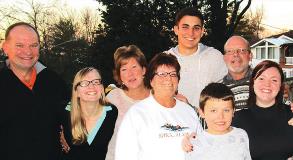 It is not often you find people who worked for one company their entire career, but it seems to be a common occurrence at Luxco. Luxco continuously attracts great people who are friendly and passionate people that find a long-term home at our company. No one better exemplified this than Sue Coleman.
Sue is often considered as one of the originals within the Luxco family. She started back in 1967 and her smiling face could be seen in the halls of Luxco for the next 45 years, until her retirement in 2012. Her first job was secretary to Paul Lux, co-founder of Luxco (then David Sherman Corporation). She would later find herself filling many diverse rolls, ending her career as a Logistics Coordinator.
Sue's compassion and upbeat personality made her a favorite with Mr. Lux and everyone else who worked with her. She looks back on her days at Luxco with great admiration.
"I truly enjoyed every position I had at Luxco," Sue reminisced. "Luxco was a huge part of my life. I am so fortunate to have started my working career there and proud that I ended it there as well. I still miss seeing many of my friends every day, but I keep in touch as much as possible!"
Sue has been living the life in her retirement years! She spends time at her river house, reads mystery novels, and, of course, often sips on some Pearl Peach. Through all of this leisure she has not forgotten about her good friends still working at Luxco. Sue is known for picking up a good game of golf during the warm weather to stay in touch with those she worked closely with.
When Sue is not golfing or spending time with her grandkids she is traveling the world. Her favorite trip to date since starting her retirement was this past summer when she took a Viking River Cruise!
Thank you, Sue! We were lucky to have you in our Luxco Family, and are glad to hear you are enjoying your retirement!