Whiskyfest & Whiskey in the Winter
December 24, 2016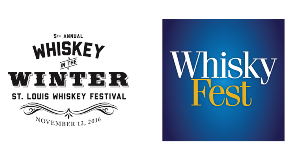 It's no secret that Luxco's whiskey portfolio is receiving more attention year over year. One way for us to highlight these brands is through trade shows and activations dedicated solely to whiskey in order to interact directly with those who feel passionate about the spirit. In the month of November, we had a strong presence at two well-known events – WhiskyFest and Whiskey in the Winter.
The 19th annual WhiskyFest held in New York is the longest-running and best-attended whisky festival in the United States. More than 2,000 consumers and members of the trade attended the sold-out event, eager to sample the world's top whiskies – including 5 of Luxco's own. Yellowstone® Select, Yellowstone Limited Edition 2016, The Quiet Man® 8 Year Old Single Malt, Rebel Yell® Single Barrel, and Blood Oath® Pact 2 were all sampled. Visitors were very engaged with the products, asking questions, providing their feedback, and learning from John Rempe and Steve Beam about how the whiskies are made.
Later that month, Luxco brought their same top whiskey brands with the addition of David Nicholson® Reserve to Whiskey in the Winter, the second largest whiskey festival in the country. This festival was held at the Hyatt Regency in St. Louis and featured more than 375 brands of whiskeys, bourbons, and scotches. In addition, 14 of
St. Louis' top mixologists were on hand at the festival creating unique craft cocktails with their signature spin. The sold-out festival saw roughly 1,800 attendees as well as some of the nation's leading brand ambassadors. Whiskey-inspired food stations filled the venue, and educational seminars were conducted by experts from across the country.
Both events gave Luxco a chance to get consumers excited about the progress that Lux Row Distillers is making as well as the opportunities it will create for our whiskey brands in the future. Overall, we saw great success in both events and are looking forward to coming back next year stronger than ever.