Wishing You Well: Linda Steiger
July 18, 2016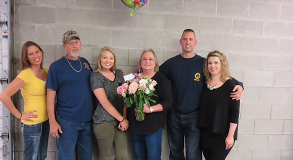 In 1985, Linda Steiger started at Luxco as a part-time employee, and by 1987, she had been brought on as a full-time member of the Luxco family. She worked in the shop for a month before being transitioned over to the Rework department, where she would take care of numerous tasks including exporting orders, fixing anything that was broken around the shop, and most recently, hand-labeling and packaging all of the Blood Oath bottles individually.

Linda particularly enjoyed working in Rework because it gave her a sense of ownership of the Blood Oath brand, and gave her a feeling of running her own small business within Luxco. Linda is grateful that her years at Luxco were peaceful due to her department having their own little nook in the shop, and while she doesn't drink alcohol, enjoyed her morning coffee with the rest of her coworkers.

Linda is a mother of two, Tony and Monica Steiger, and the wife to Anthony Steiger, not to forget her rescued pups Cole and Zeus. Prior to her employment at Luxco, Linda enjoyed being a stay at home mom. Now that she has retired, Linda and Anthony landscaped their front yard and added a pond to their backyard, and she looks forward to spending more time in her garden in the future. When not neck-deep in their garden, Linda and Anthony love to escape to their vacation home at Mark Twain Lake.

Linda's last day of work at Luxco was on April 29th, 2016. The Luxco family wishes only the best to Linda and her beloved family!