Yellowstone® Bourbon: A Celebration 150 Years in the Making
July 13, 2022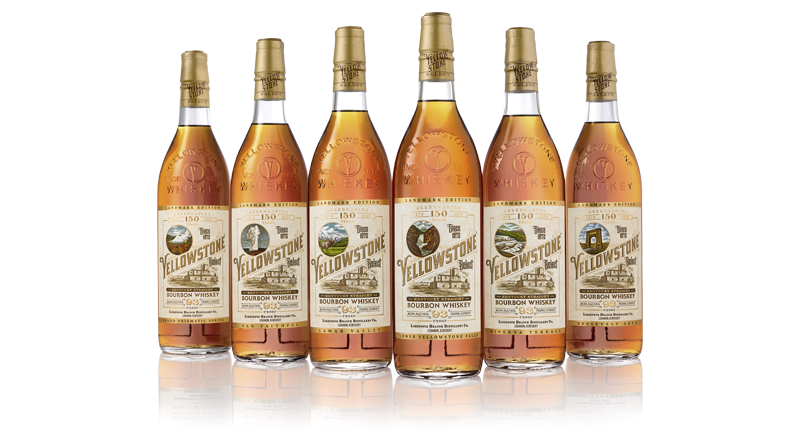 In 1872, Joseph Washington Dant – great-great-grandfather of Limestone Branch Distillery™ Master Distiller Stephen Beam – named his new bourbon for a new national park recently visited (and raved about) by one of his salesmen.
Yellowstone® Bourbon was named to honor the remarkable beauty and pioneering spirit embodied in the country's first national park. Fast forward to 2022, and both Yellowstone Bourbon and its namesake, Yellowstone National Park, are celebrating their 150th anniversary.
The Yellowstone Bourbon brand team kicked off the year of celebration with the launch of the Yellowstone Select Landmark Edition Bottle series, featuring one of six famous Yellowstone Park landmarks on the label. The bottle's iconic Lower Falls was featured along with:
Old Faithful
Grand Prismatic Spring
Minerva Terrace
Roosevelt Arch
Lamar Valley
Again for 2022, Yellowstone Bourbon has continued its tradition of supporting Yellowstone National Park – and other national parks – through its ongoing partnership with the National Parks Conservation Association (NPCA), an independent organization working to strengthen and protect our national parks. From Jan. 1 through Nov. 30, 2022, $1.50 of each bottle of Yellowstone Select sold will be donated to the NPCA, up to a guaranteed $30,000 donation. Since this program began, Yellowstone Bourbon and Limestone Branch Distillery have donated nearly $210,000 to the organization.
Yellowstone Bourbon print ads, featured in multiple lifestyle publications throughout the year, helped drive home the message of support for the NPCA under the tagline "for all." Additionally, while celebrating the 150th anniversary of both the park and the bourbon, the brand team went on location at Limestone Branch Distillery, Yellowstone National Park, and other sites to create a new commercial spot that draws parallels between iconic Yellowstone National Park landmarks and elements of the process used to develop Yellowstone Bourbon. The ad will debut early summer and run a full year on cable television, digital TV, YouTube and social media platforms.
The kinship between Yellowstone Bourbon and Yellowstone National Park goes beyond the shared name. Originally a landscape architect by trade, Stephen Beam cultivated a love for nature and the outdoors, having taken countless family trips to our country's national parks. A longtime fan and supporter of the NPCA, he was
recently featured in their documentary film honoring the 150th anniversary of Yellowstone National Park. In April, the film debuted at a film screening, panel, and reception event held in Bozeman, Montana. Stephen was a featured speaker, along with the film's director, NPCA representatives, local ranchers, and a Crow (Apsáalooke) Tribal member.
"We're proud of our brand's long history honoring its namesake national park. And we are thrilled to spend this year paying tribute to our shared 150-year journey through such programs as the Landmark Edition Bottle Series, our print and video advertising, and our ongoing relationship with the National Parks Conservation Association," said Limestone Branch Distillery Brand Manager Caitlin Palmieri Jackson. "We look forward to many years of continued success and collaboration for both Yellowstone Bourbon and Yellowstone National Park."
The linkage between Yellowstone Bourbon and Yellowstone National Park and their joint 150-year celebrations will continue throughout the year.