YELLOWSTONE® LIMITED EDITION KENTUCKY STRAIGHT BOURBON
October 6, 2016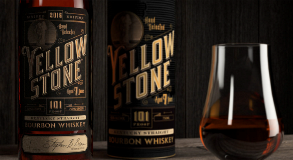 Almost two years ago, Luxco began its partnership with Limestone Branch Distillery, a family-owned craft distillery in Lebanon, Kentucky operated by brothers Steve and Paul Beam. With a history of distilling on both sides of their family – Beam and Dant – the brothers are seventh-generation distillers. One of the main goals of the partnership was to bring Yellowstone® Kentucky Straight Bourbon back to its roots and continue to craft the finest bourbon.
The 2016 Yellowstone Limited Edition combines two extra-aged rye mashed bourbons – a stately 12-year and a bold 7-year – hand-selected and finished for several months in new toasted wine barrels. The result is a small batch legendary bourbon with a truly unique complexity and character – definitely a bourbon enjoyable for sipping.
Bottled at 101 proof and available in 750mL bottles signed by Steve Beam and nestled in commemorative tubes, Yellowstone Limited Edition offers a taste profile of spiced oak, roasted coffee with creamy notes of vanilla, rich chocolate and fresh berries, and a smoky caramel finish. To create this subtle complexity, the brothers used 28 new wine barrels with varying levels of toast to really make this bourbon unique from last year's Limited Edition, which was more focused on big, bold flavors.
After releasing the 2015 Limited Edition and the Yellowstone Select varieties last year, the Yellowstone 2016 Limited Edition continues to celebrate the 106-year heritage and excellence of this hand-crafted bourbon.
Approximately 7,000 bottles of this bourbon are being produced this year at Limestone Branch Distillery, and the suggested retail price is $99.99. For more information, visit www.limestonebranch.com.